So you have installed elementary OS in a hurry only to realize you made a typo or gave a weird name or left the default name having the PC maker and model for the computer name. You didn't bother it much until you start seeing it in the Terminal's command prompt! Don't worry, it is easy to change the computer name. We shall edit the host name in the system file using gedit command.
STEP 1: Go to 'Applications' and launch 'Terminal'.
STEP 2: Type the following command line and hit enter.
sudo gedit /etc/hostname


As you see, we are using gedit to edit the hostname file.
STEP 3: You will see a new window with the current computer name in it. In my test PC, the name is 'FOSSLinux'. I will change it to 'PC_NAME_CHANGE' just for the sake of illustration. You can enter whatever the new name you want.
STEP 4: Click 'Save'.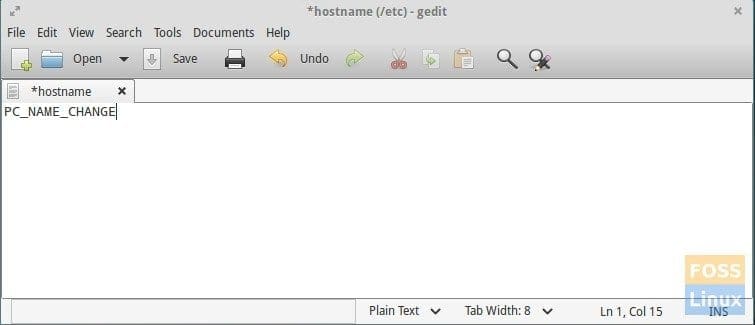 STEP 5: Close everything and restart the computer.
STEP 6: Launch 'Terminal' to see your new computer name in the command prompt.