Fedora 26 is now available with exciting new features, applications, and not to forget the thousands of performance improvements. It also came with several new spin off editions, making sure there is one for everyone like for instance STEM teachers can take advantage of the new Python Classroom edition!
Upgrading to Fedora 26
Those who have Fedora 25 on their PC can upgrade to Fedora 26 without much of a hassle. Like always, the upgrade can be done via GUI or by command-line via terminal. Let's discuss both the ways.
Method 1: Command line Way (recommended)
It is always recommended to backup important data just-in-case something goes wrong and you are not able to boot into PC.
STEP 1: Launch 'Terminal' from 'Activities'.
STEP 2: Enter the following dnf command in the terminal and hit enter. Pay attention to the Terminal, you will have to enter root password and 'y' when prompted.
sudo dnf upgrade --refresh
STEP 3: Type the following command to install the plugin.
sudo dnf install dnf-plugin-system-upgrade
STEP 4: Use this command to start downloading Fedora 26.
sudo dnf system-upgrade download --releasever=26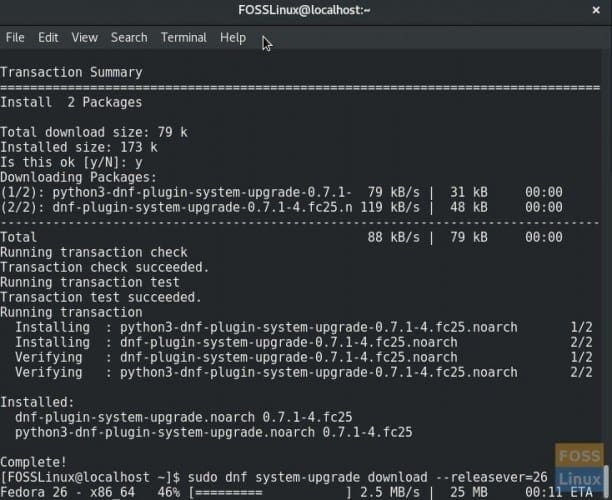 OPTIONAL STEP 5: If you have issues when upgrading because of packages without updates, broken dependencies, or retired packages, add the –allowerasing flag when typing the above command. This will allow DNF to remove packages that may be blocking your system upgrade.
STEP 6: After the download is complete, you will have to reboot your PC to begin installing Fedora 26 that got downloaded.
sudo dnf system-upgrade reboot
STEP 7: Sit back, relax, and enjoy a cup of coffee! Fedora 26 will be installed, and once done you should see a message "Upgrade complete! Cleaning up and rebooting…"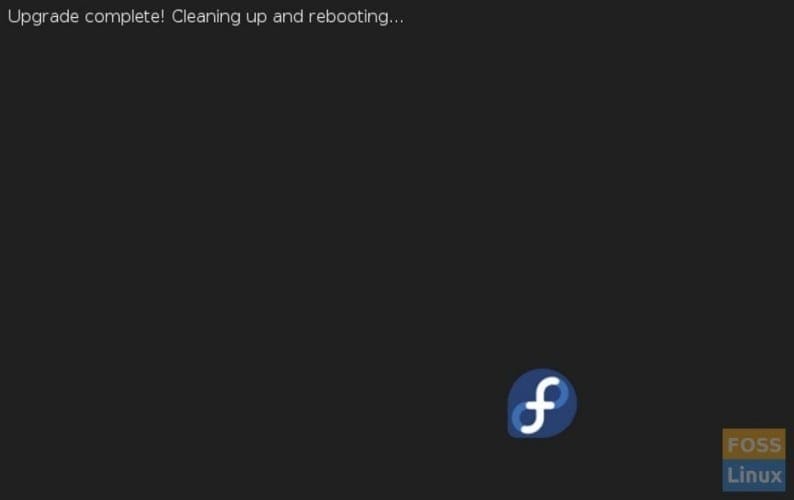 Method 2: GUI Way via Software Update
Those who prefer the graphical user interface method can use "Software Update" to upgrade to Fedora 26. Here are the steps :
STEP 1: Launch 'Software'.
STEP 2: In the 'Software' update manager, click on 'Updates' tab.
STEP 3: Provided that you have already installed all the Fedora 25 updates, you should now see a notification banner "Fedora 26 now available".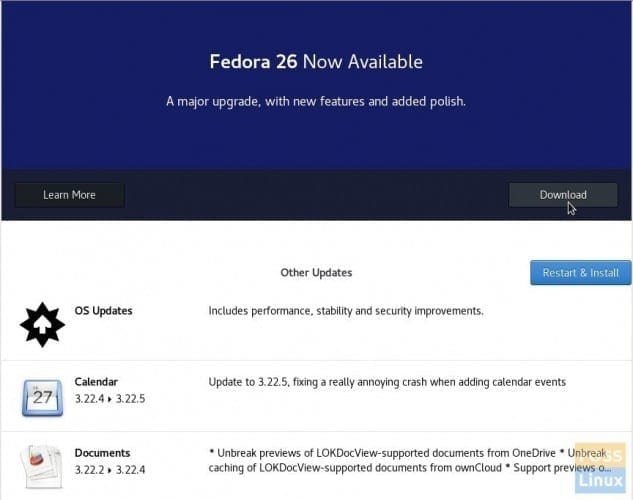 If you don't see it, click on the reload icon located on the top left corner of the 'Software'. It should fetch the Fedora 26 notification!
STEP 4: Click on 'Download', and follow the simple on-screen instructions to upgrade to Fedora 26.