Earlier we mentioned that the upcoming elementary OS 5.0 codenamed Juno may feature a brand new installer called "Distinst". It is being developed together by elementary and System76 team. This means the new installation wizard will be included in elementary OS and Pop!_OS. System76 releases Pop!_OS, which is a Linux distribution based of Ubuntu. It is one of the gorgeous looking distro that is worth taking a look.
The good news is Pop!_OS has released a test version of their upcoming distribution based of Ubuntu 18.04. The test version features the new installer, so offering us a glimpse at the upcoming elementary OS installer. Both the distributions will have same wizard, of course with different logos.
UPDATE 09th April: elementary confirmed to FOSS Linux that there is no guarantee that the new installer will be packaged in Juno. They are working towards it as the goal, since they work with a policy of "When It's Ready™", so we have to wait and see eventually when will it land in elementary OS.
Just for clarification, there's no guarantee that the new installer will ship with Juno. It's not currently in our internal builds just yet

— elementary (@elementary) April 9, 2018
We downloaded Pop!_OS 18.04 test version and captured these bunch of screenshots during the installation. The installer is completely developed from scratch and looks very different from Ubuntu's ubiquity installation wizard. First thing you will notice is the intuitive user interface that's very easy to follow even for newbies trying to install Linux first time.
The next step has a new name called "Demo mode", which is nothing but the Live desktop.
For additional security it's great to use "Drive encryption", particularly for laptops as they are comparatively easier to get stolen or lost.
I think the installer is not yet finalized and understandably OK considering the test version of Pop!_OS, because I don't see hard disk partitioning wizard to indicate the bootloader and SWAP partitions. It took me straight to "Erase and install".
Update: The installer is not fully completed and the following known issues exists
Choosing a language other that English does not change the current GNOME session

Custom partitioning is not implemented but will be completed by release. Installing wipes the drive you install to

After installing, initial setup may hang. Reboot by holding the power button to complete setup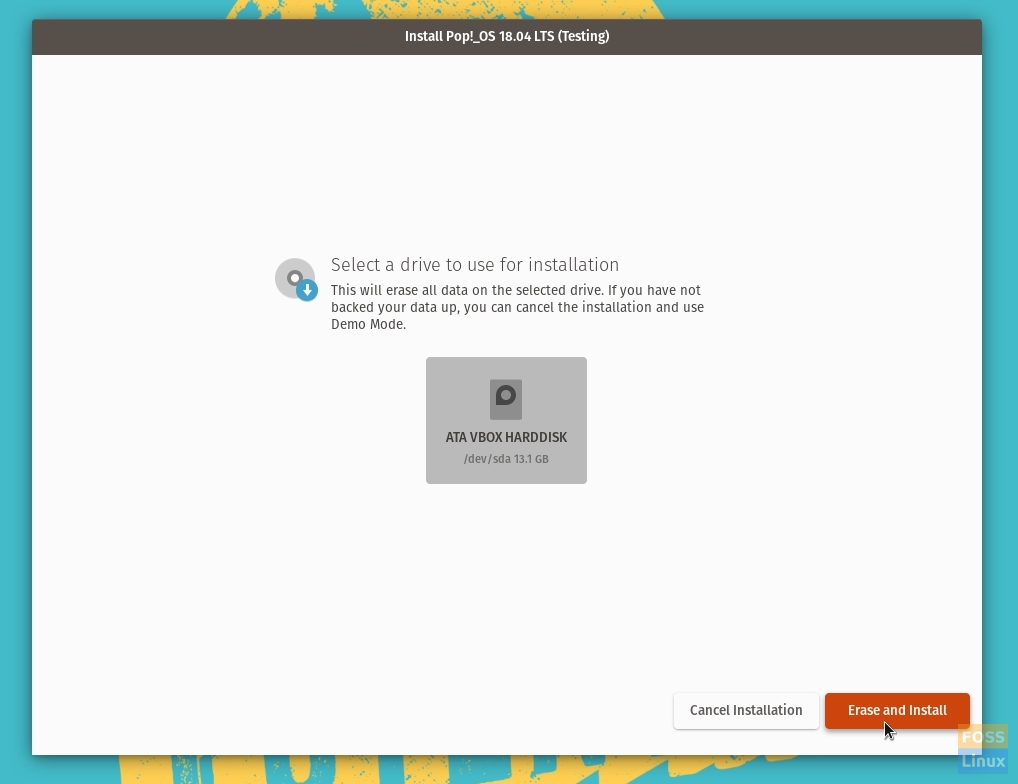 Here is a screenshot from elementary when they gave a sneak peek into the Distinst.
It will be exciting to see the completed version of Distinst when it gets released. Stay tuned to FOSS Linux. Meanwhile, if you want to try out the new installer and also the gorgeous Pop!_OS, grab the test build from below link: