Creating your own Wi-Fi Hotspot is extremely useful at times, especially for people who travel a lot. Ethernet (wired internet) source and a Wireless adapter connected computer can be converted to a Wi-Fi hotspot so that the mobile devices can access this hotspot, thus sharing the internet. This tutorial will guide you on how to create a wireless hotspot (also called as Wi-Fi tethering) without installing a third-party software. We shall use the elementary OS built in Network connections tool and configure its infrastructure to make Wireless tethering possible.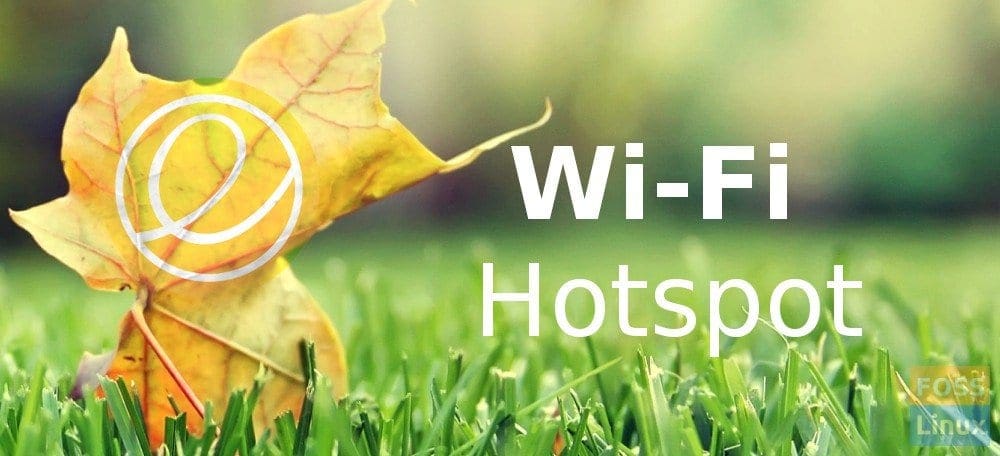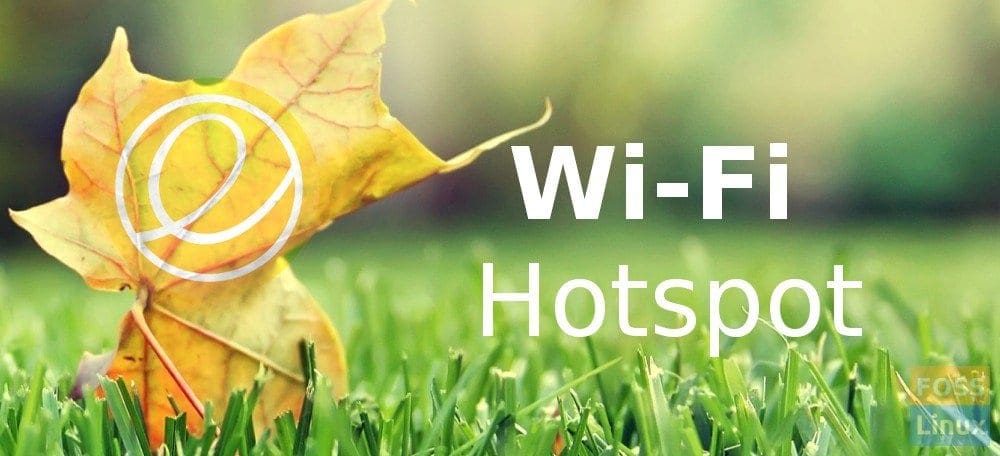 Create a personal Wi-Fi Hotspot from Ethernet
STEP 1: Connect the Ethernet cable to you computer and make sure internet is working good.
STEP 2: Click on the network icon on the wingpanel and uncheck 'Enable Wi-Fi'.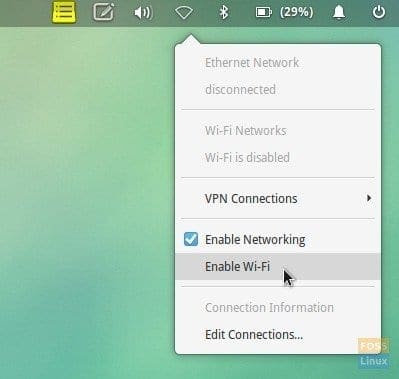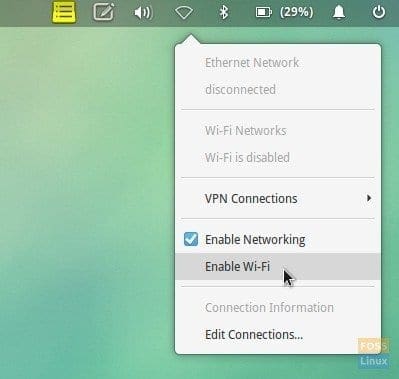 STEP 3: Click on the network icon again and click 'Edit Connections…'.
STEP 4: Click 'Add' in the pop-up window.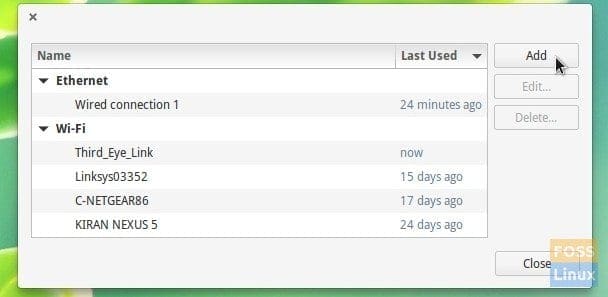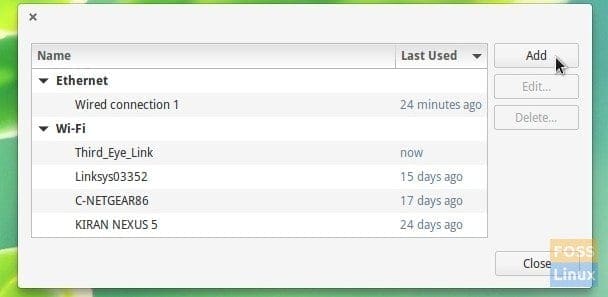 STEP 5: Select 'Wi-Fi' from the drop-down list when it prompts to 'Choose a Connection Type' and then click  'Create'.


STEP 6: In the next window, you will have to enter the following information.
Type in a connection name. Make a note of the name, we need it later.
Type in a SSID. This is the name of the Wi-Fi Hotspot which will be shown in wireless devices when you scan.
Select mode: 'Infrastructure'
Device MAC address: select your wireless card from drop-down menu.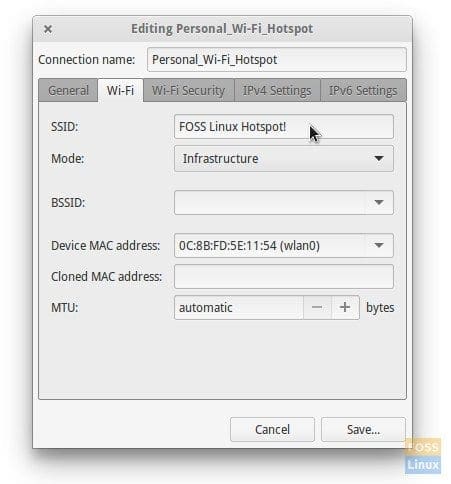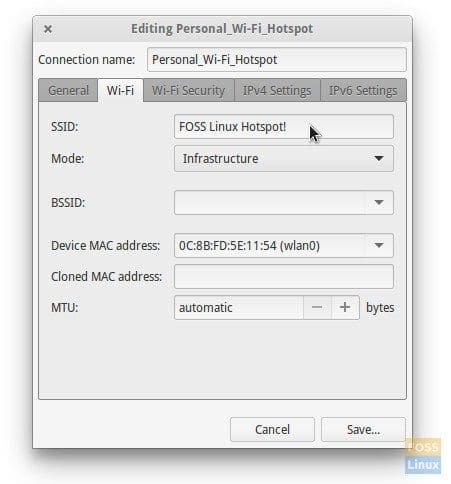 STEP 7: Click 'Wi-Fi Security' tab and select security type as 'WPA & WPA2 Personal'. You will also have to set a password. This is the password needed for connecting to the Wi-Fi Hotspot.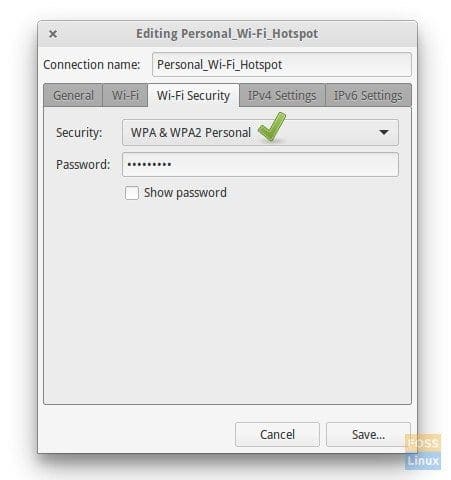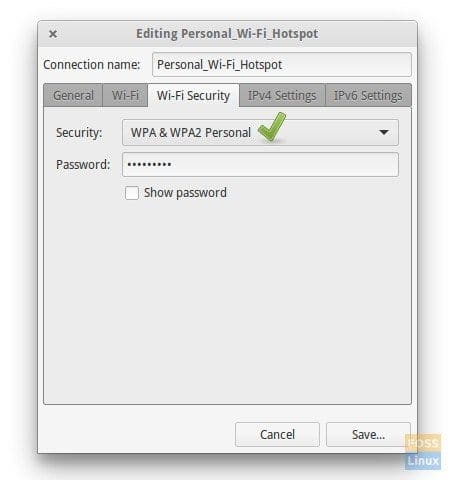 STEP 8: Click 'IPv4 Settings' tab and select the 'Method' as 'Shared to other computers' from the drop-down list.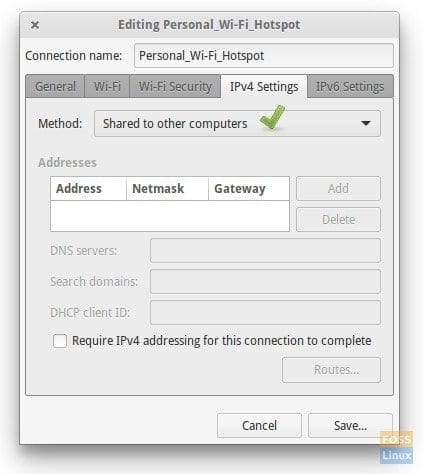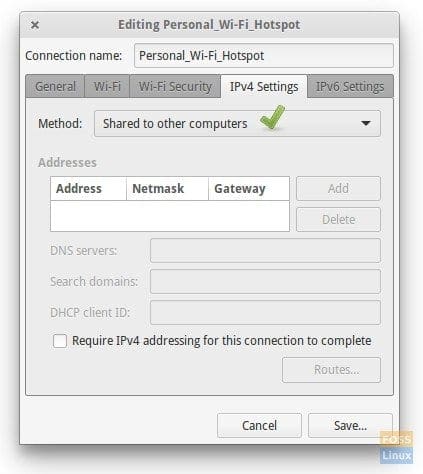 STEP 9: Click 'Save'.
STEP 10: The new Wi-Fi profile will get added in the network connections list.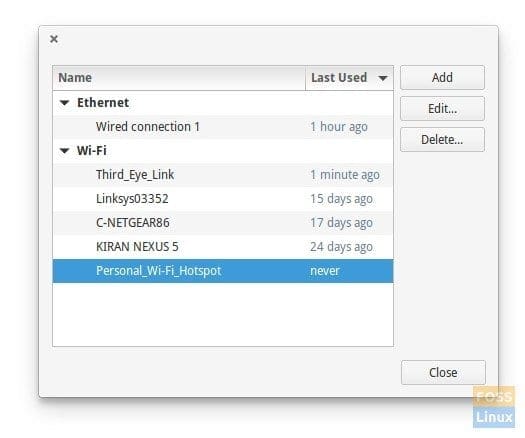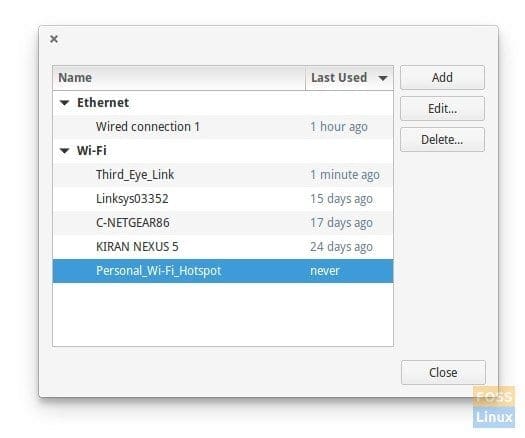 STEP 11: Go to 'Applications' and launch 'Terminal'.
STEP 12: Enter the following command. Important: Make sure to replace with the connection name 'Personal_Wi-Fi_Hotspot' with that of what you typed in STEP 6.
gksu gedit /etc/NetworkManager/system-connections/Personal_Wi-Fi_Hotspot




STEP 13: In the gksu gedit window, look for mode=infrastructure and change it to mode=ap. Save the file and close the terminal.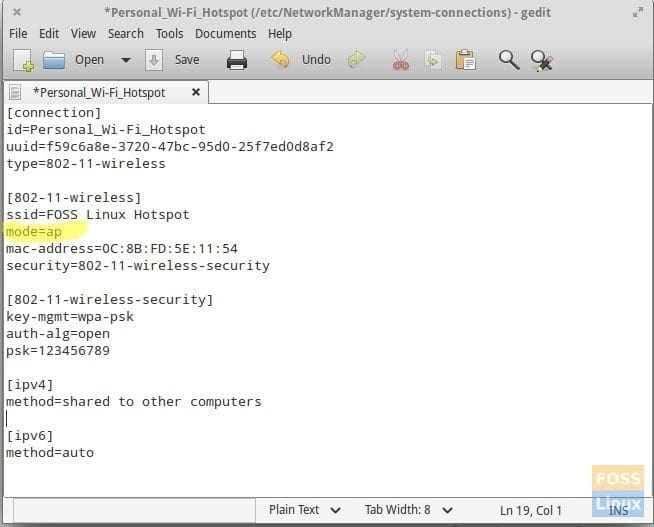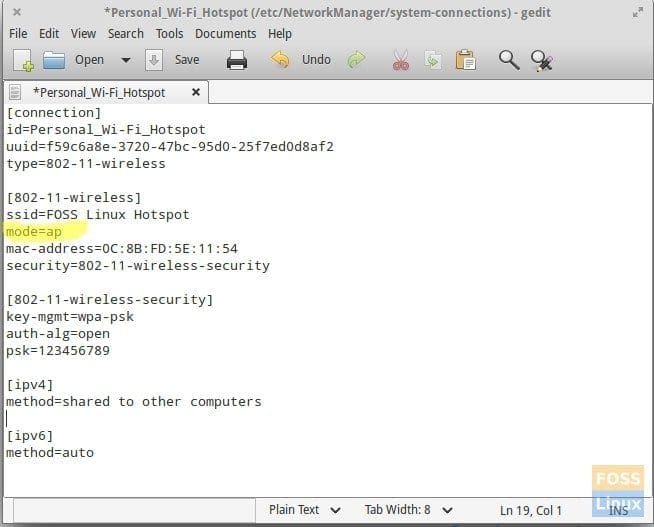 STEP 14: Now click on network icon and 'Enable Wi-Fi'. You should see the new Wi-Fi hotspot created in the Wi-Fi Networks section. Connect to it and your hotspot is ready!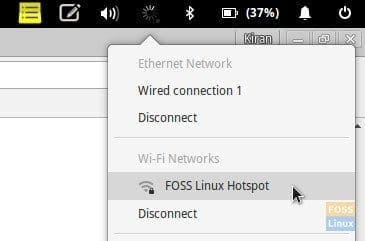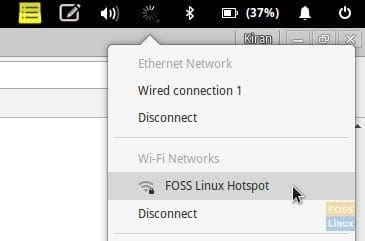 You can now connect your smartphone and share the computer's internet.