Upgrading your skills in 2020 has never been important. If you are someone who loves Linux and wants to certify, then you have come to the right place as we go through the five best Linux certifications that you should not miss in 2020. The IT industry revolves heavily around the Linux operating system. And that's why you will find that there is a constant demand for Linux experts.
To help you overcome the competition and enable yourself to showcase your skills, you need to do certifications.
However, the main issue occurs when it comes to choosing the right certification for yourself. The different certifications have different goals, and hence you need to have a proper understanding of each of them before you start doing them. Also, not all certifications have equal value in the market.
So, how do you know which one is good? Any good Linux certification will balance the distribution mix and provide training and certification in a brand-agnostic environment and still provide you vendor-specific credentials. In the end, you get the best of both worlds where you learn and get recognition for the certifications.
Before we go deep into the best Linux certifications in 2020, let's quickly take a look at the benefits of doing certifications and why you should do it as well.
Benefits of Certifications
If you are reading this, then the chances are that you already understand what certifications bring to the table.
By certifying yourself, you are quantifying your knowledge to represent yourself as competent in front of your employee and other co-workers. Not to mention, certifications provide valuable knowledge and skill which you can use in your work. You will also see the benefits during the hiring phase as managers prefer Linux engineers with certifications.
Right now, Linux is at the core of most IT jobs. However, not everyone gets certified. This means that you can also get the benefit of certification when it comes to competition. Not everyone gets certified, and that's where you get the advantage.
Meanwhile, you can always opt not to do certifications, but you can always use certification to access jobs that only want certified professionals to apply. This gives you a good advantage, especially when it comes to low-level jobs. Later on, you can gain experience and then apply for more experience jobs.
However, you need to make the right decision when it comes to choosing certification as you need to invest time and invest money when it comes to doing the certification.
The 5 Best Linux Certifications in 2020
If you are looking for an entry-level certification course, then you should start with the Linux+ certifications provided by CompTIA. They provide popular certification courses and are quite popular in the IT professional marketplace.
The certifications provide you training on all major Linux distributions by going through their common and essential tasks for these distributions. Apart from that, you also cover more advanced aspects of Linux distributions. So, you got to learn about basic maintenance, Linux command line, configuring and installing workstations, and networking. Well, that's a lot of stuff that you will learn here, and that's why it is best suited for someone who wants to get started with Linux. The certification is job oriented and provides value to the one taking it.
To get certified, you need to clear only one exam. The exams are focused more on understanding the exam taker's skill level by using multiple-choice performance-based questions.
You can also opt for their exam preparation modules by taking their other services. However, you need to buy those services which can cost more.
Lastly, you can also renew the certification by taking up the certification course again once it expires.
Passing score: 720(100 to 900 scale)
Price: Starts from $329
Skills You Will Learn System operation & Maintenace, hardware and system configuration, Linux troubleshooting and diagnostic, automation and scripting, and security.
Questions: 90
Languages supported: English. Other languages that are coming soon include Portuguese, Spanish, and Japanese.
Jobs that use CompTIA Linux+: Network administrator, Linux administrator, Web administrator, Technical Support Specialist, Systems Administrator.
Our next stop is Red Hat certifications. They provide plenty of certifications, but one certification that we recommend that you should look at is the Red Hat Certified System Engineer(RHCSA).
Red Hat has a lot of certification courses you can take. However, the system administrator can give you a good starting point for your Linux journey. By doing the certification, you will acquire the core system administration skills for the Red Hat Enterprise Linux environments.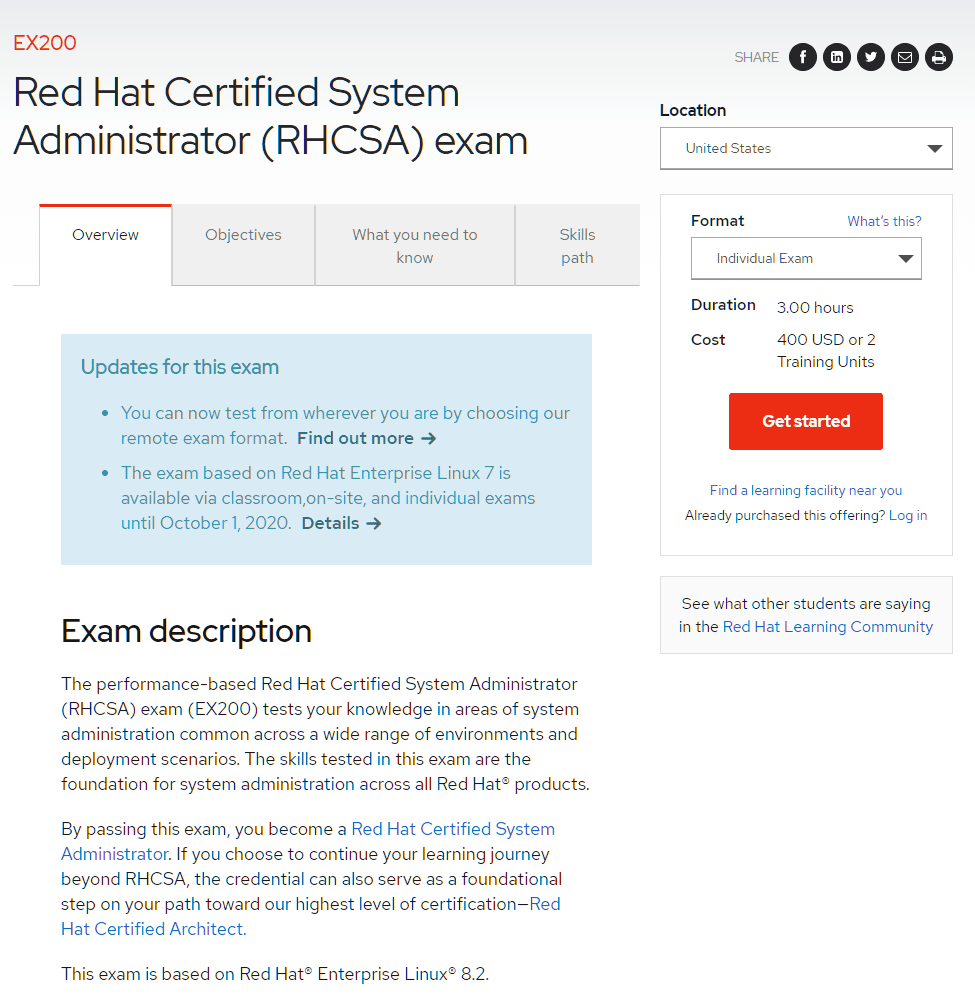 The skills that you will learn as an RHCSA include the following:
Work with simple shell scripts
Able to handle directories, files, documentation, and command-line environment
Configure local storage using logical volumes and partitions
Operate running systems and work efficiently with virtual machines
Manage groups and users
Manage basic firewall, security, and SELinux configuration
and much more!
The certification can be taken by already experienced Red Hat Enterprise Linux system administrators as they look to validate their skills. It is also a valid certification process for those who have done RH124 and RH134. However, the certification's major beneficiary is those who want to become a Red Hat Certified Engineer(RHCE).
The RCHE is another interesting certification that you can take a look at. It enables RHCSA administrators to further improve their skills by learning how to automate Red Hat Enterprise Linux tasks. You also learn to work with other Red Hat emerging technology and use them for better innovation and efficiency.
Passing score: Not mentioned on their site
Price: $400
Skills You Will Learn: Shell scripts, manage users and groups, handle documentation, files, directories, and command-line environment, operate virtual machines, and more
Questions: Not mentioned
Languages supported: English.
Jobs that use RHCSA: Network administrator, Linux administrator, Web administrator, Technical Support Specialist, Systems Administrator
The Linux Foundation Certified System Administrator(LFCS) is another excellent option for Linux certifications. The LFCS is a great certification for starting their career as a Linux system administrator or someone interested in an open-source career.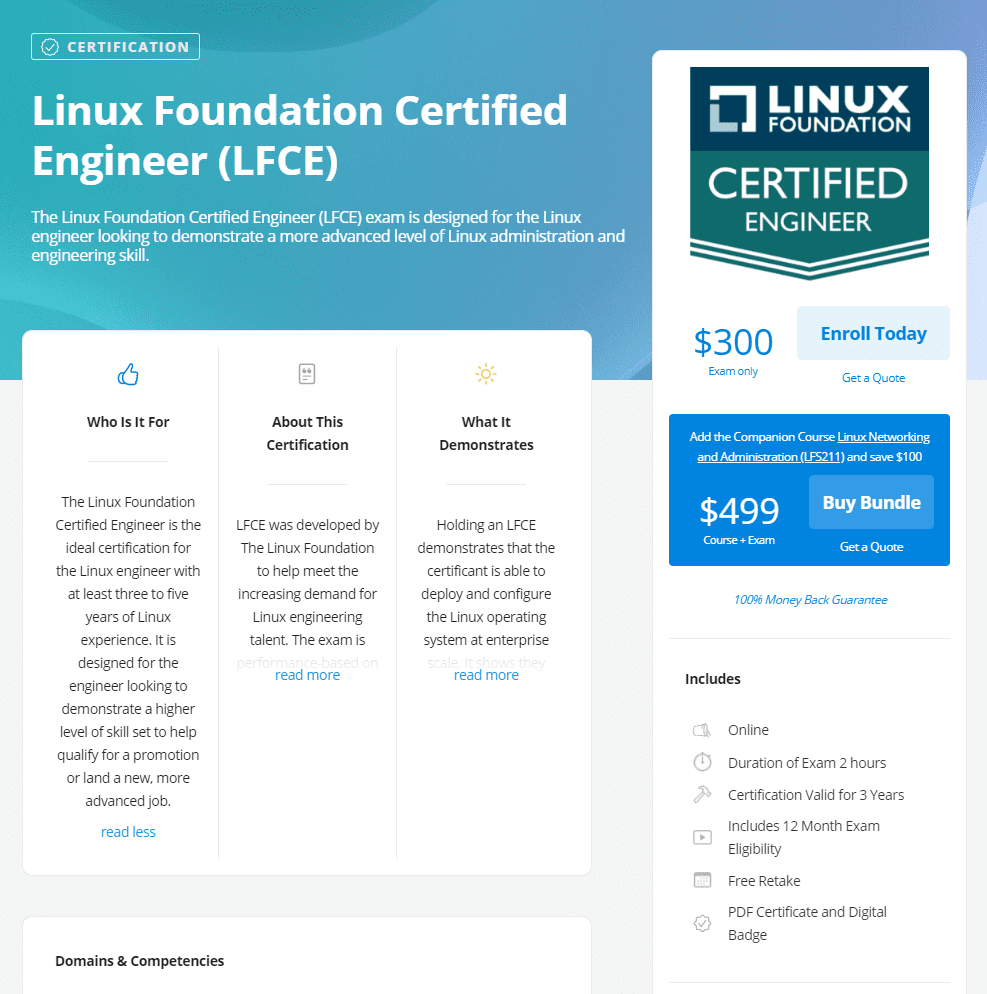 So, if you have already worked as a system administrator and want to validate your skills, then the LFCS is for you. You can do the certification for just $300, where you get access to the exam only. However, if you need guidance, you can also choose their Course + Exam bundle for $499.
The exam covers domains and competencies, including essential command, networking, user and group management, operation of running systems, service configuration, networking, and storage management.
By completing the certification, you will be ready to tackle real-world Linux administrator job tasks. Also, the candidates can only choose from CentOS 7 and Ubuntu 18. The next time you show your certification to the employer, they will know that you are certified and can work effectively with Linux systems and easily install, configure, and design the system installation.
The certification needs to be retaken after the three-year window expires, which is a traditional time for any other Linux certifications out there.
You should also check out Linux Foundation Certified Engineer(LFCE), which is a step forward when it comes to the LFCS certification. The LFCE certification is best suited for those who have three to five years of experience.
Passing score: Not mentioned on their site
Price: $300, $499 if you take the course plus exam bundle
Skills You Will Learn: Networking, essential command, group, and user management, service configuration, storage management, and operation of running systems.
Exam Duration: 2 hours
Languages supported: English.
4. SUSE Certified Administrator(SCA) in Enterprise Linux
If you are looking to get certified at the enterprise level, then the SUSE Certified Administrator(SCA) certification is for you. The certification stresses your skills and sees if your skills are fit at an enterprise level. It covers your overall knowledge of Linux and ensures that you are ready for the real-world challenge.
The SCA certification is also one of the cheapest certification courses out there. You can do it by just paying $149 for the exam. If you want to succeed in the certification, then you need to match the key objectives for the text, which includes the following:
Basic Linux configuration and SLES 12 installation
Remote administration use and configuration
Manage software
Manage permissions and users
Manage storage
Monitor SUSE Linux exchange
And much more!
You can take the course even when you do not have any experience with Linux. By doing the certification, you will make yourself ready to work in the IT industry.
Passing score: 70%
Price: $149
Skills You Will Learn: Proper understanding of Linux and SUSE operating system in an enterprise settings
Exam Duration: 2-2.5 hours
Languages supported: English.
The last certifications that I recommend are the Oracle Linux OCA(Oracle Linux Certified Administrator) and the Oracle Linux OCP(Oracle Linux Certified Professional).
If you are a student, then the OCA certification is for you. It covers Oracle Linux, its understand, system configuration, storage devices, kernel modules, and other Oracle Linux management tasks and functionalities. It is also one of the first steps in certification that you can take when getting certified for the OCP certification.
So, what does OCP offers? OCP or the Oracle Certified Professional(OCP) lets you test advanced Oracle Linux administrator skills. You can do OCP after completing the Linux 5 and 6 OCA credentials.
By completing the OCP, you will have the professional skills and technical expertise when it comes to managing applications, developing them, and implementing them. You will also be able to manage the middleware and database in an enterprise setting. Candidates can apply for advanced and well-paying jobs after getting the OCP certification.
Passing score: 70%
Price: $245 for OCA and $50 for beta OCP exam and then $245 after completing beta
Skills You Will Learn Complete understanding of Oracle Linux in an enterprise setting and real-time skills to manage the enterprise-level Linux.
Exam Duration: Depends on the exam time
Languages supported: English.
Conclusion
Getting certified can be a game-changing moment for your career. It not only reassures you about your abilities and skills but also showcases them to potential employees. So, which Linux certification are you going to do? Comment below, and let's know.