Gaming enthusiasts should be all ears right now as SuperTuxKart 1.0 has just been dropped with a variety of new features and improvements. It is also worth mentioning that this version took 12 years in the making, so the players are probable to see significant changes in the gameplay.
SuperTuxKart is an indie racing game that can be compared to Mario Kart to a certain extent. The game also adds some popular mascots into the mix that Linux users might find familiar.
SuperTuxKart 1.0 New Features
SuperTuxKart 1.0 brings with itself a number of new features, the most significant of which we'll have a look at right now.
Multiplayer Support
This update cuts the need for split screens to enjoy multiplayer gameplay. Instead, players can just play with each other on the internet. For that, the internet speed has to be at least 1.2 megabits per second, which is enough even when 10 players are being hosted.
New Game Mode
The makers of this game have added a new game mode, namely Capture-The-Flag mode. This might bring back the former players of this game who got bored with the same old modes. In addition to that, players can not only play this new mode online but other modes as well, including normal race, time trial, soccer mode, and battle mode.
Other Changes
The game now has new tracks for users to play on, such as Ravenbridge Mansion
Several gameplay and performance improvements with the new gaming engine and various bug-fixes
Installation
If you're looking forward to getting this new version of SuperTuxKart, let me assist you with the procedure of doing so.
Firstly, you'll have to download the game through this link. Please choose the appropriate version for your operating system. I'm using Ubuntu, so I went with the file having '.tar.gz' as its extension.
Once you're done with that, it's time to extract the downloaded folder. In order to do so, we'll have to run a couple of commands on the Linux terminal first.
Go to the directory where you downloaded the game. I had it in my Downloads folder so I ran the following command:
cd Downloads

When you've stepped into that directory, you are to run the following command to extract the content of the folder:
tar -xvf supertuxkart-1.0-linux.tar.xz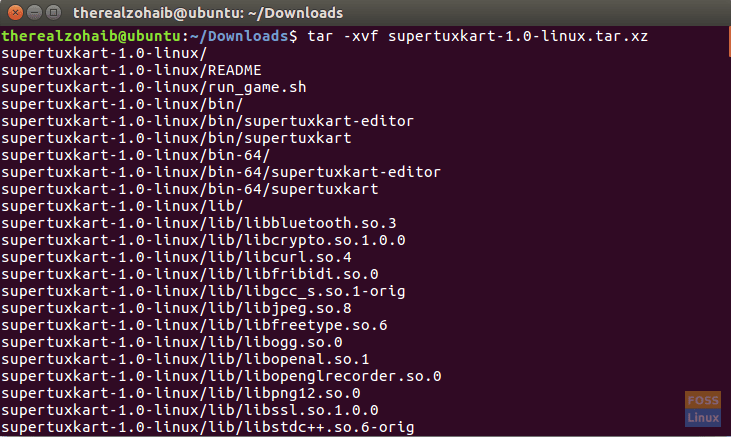 After the extraction has been completed, you will find a new directory. This directory will have the same name as the original folder but won't have an extension.
Now run the following command to get into this new directory:
cd supertuxkart-1.0-linux
This directory will include a script named 'run_game.sh'. What you need to do in order to play this game is to make this file executable. The following command should do the trick:
chmod +x run_script.sh

All you need to do now is to execute this script.
./run_script.sh
Right after you run this command, the all-new SuperTuxKart's window will appear and you'll be all set to play this game whenever you want to.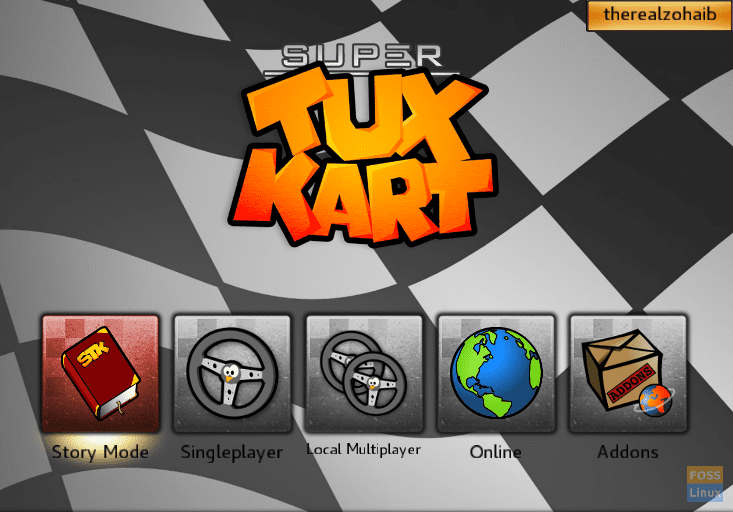 Uninstallation
If you want to uninstall SuperTuxKart for whatever reason, you don't have to do anything complicated. Just delete both the extracted and compressed SuperTuxKart folders from the directory you downloaded them to, and you will never see this game again (only if you're able to resist the urge of downloading it again).
Conclusion
SuperTuxKart 1.0 brings a lot of new stuff to the table, which could not only bring back former players but also win the hearts of the new ones. The online multiplayer feature has the potential to be a turning point for this game. In short, this update gives this simple arcade-style, racing game a much-needed, modern makeover.