GNOME Foundation has announced the release of GNOME 3.32. Apart from the regular bug fixes, users should see a bunch of new features since this update is the outcome of 6 months of hard work by the development team.
It should be noted that GNOME is one of the most used desktop environments for Linux distros such as Ubuntu, Fedora, Manjaro, CentOS, and several others. Being used in these popular Linux distros, it brings about quite some attention from developers, who significantly contribute to these updates.
In total, the release incorporates 26438 changes, made by approximately 798 contributors.
The makers decided to code name this version of GNOME as Taipei owing to because of the fact that the last GNOME.Asia took place in this city of Taiwan.
GNOME 3.32 New Features
Now coming to the new features of GNOME 3.32, you can spot a number of them just by looking at the new, modern look of your desktop. The following changes should be noticed:
1. New Icons
It's good news if you happened to get bored of seeing the old usual icons on your desktop. The new icons are not only substantially different from their predecessors, but some of them are also 3D, which give the entire desktop a more modern, stylish look.
2. Fractional Scaling
The GNOME Foundation has attempted to outdo itself with this update by introducing fractional scaling for Wayland sessions. With this feature, you'll be able to scale desktops at certain resolutions using non-integer values. In simpler terms, larger screens will now be able to display the desktop without compromising too much on the output quality.
However, it is only an experimental feature for now, and you'll have to enable it manually.
3. More Control over App Permissions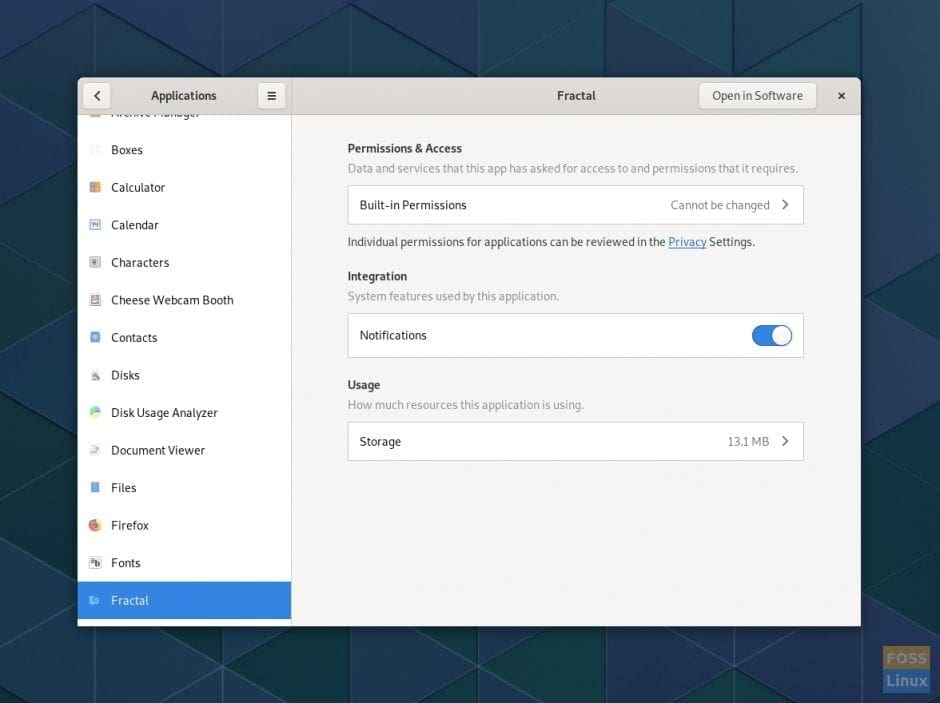 After updating to the latest version of GNOME, its users will be able to better manage app permissions by restricting the installed apps from accessing specific files, devices, or other private information. Besides, it will also allow you to stop apps from throwing unwanted notifications and making sounds.
4. Better Adwaita Theme
GNOME Taipei embraces everything modern. It is consistent in the Adwaita theme too as it has now become more lightweight and stylish than before. Also, the update has gotten rid of the harsh stroke surrounding widgets, which appeared a bit unpleasant to some people. In place of it, you will now find subtle shadows and gradients.
5. Enhanced Performance
Apart from improving the look of GNOME, the developers have also worked on the performance aspect of the software. In this release, you will find the GNOME shell UI and the window manager (known as Mutter) to be more responsive. Furthermore, on-click actions, menu unfolding, and animations have become faster. Not to mention that now you will be able to perform search operations on various apps in less time.
6. Other Features
Alongside these major changes, GNOME users will also find it refreshing to find the following features:
On-screen Emoji Keyboard
Rounded Avatars
Better Night Light
Faster Google Drive Mounting
Conclusion
This version of GNOME brings a lot of new stuff to the table. Because of the efforts of the development team, Linux enthusiasts wouldn't be able to resist updating their software to the latest version so that they could not only experience improvements in UI but also the overall performance.