Stacer is a completely free and one-stop system optimizer you have been waiting for. It offers some powerful features in a nice looking user interface. One of the best features of Stacer is the ability to free up hard disk space.
The application is readily packaged as .deb and .rpm binaries, so can be installed right away on Ubuntu, Linux Mint, elementary OS, Fedora & derivatives, and etc..It is also available in AppImage format for use in any Linux distributions.
Download Stacer
Ubuntu, Linux Mint, and elementary OS users can download .deb file. After download is complete, simply double-click on the file to install it. Fedora and derivatives need to download .rpm binaries which also installs right away.
Other Linux distro users can try the .AppImage format. This format is similar to portable apps for Windows. All you have to do is give executable rights to the downloaded .AppImage file, and you are ready to go. To give executable rights, simply right-click on the file and go to "Properties". In the "Permissions", check the box that says "Allow executing file as program", and click OK. After that you can double-click on the file to run it.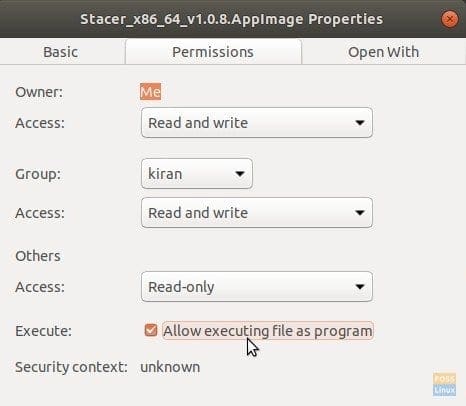 Stacer Features
Here is the glance at each of the features which Stacer can do for you, just by click!
1. Dashboard – System Info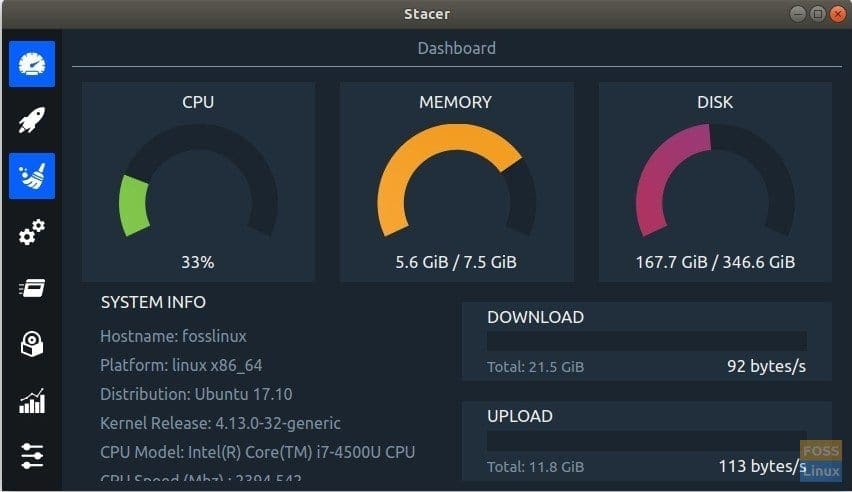 Dashboard displays system resources usage including CPU, RAM, and Hard disk space. It also displays system info and network bandwidth statistics for the session. Also handy to see Linux kernel version listed there!
2. System Startup Applications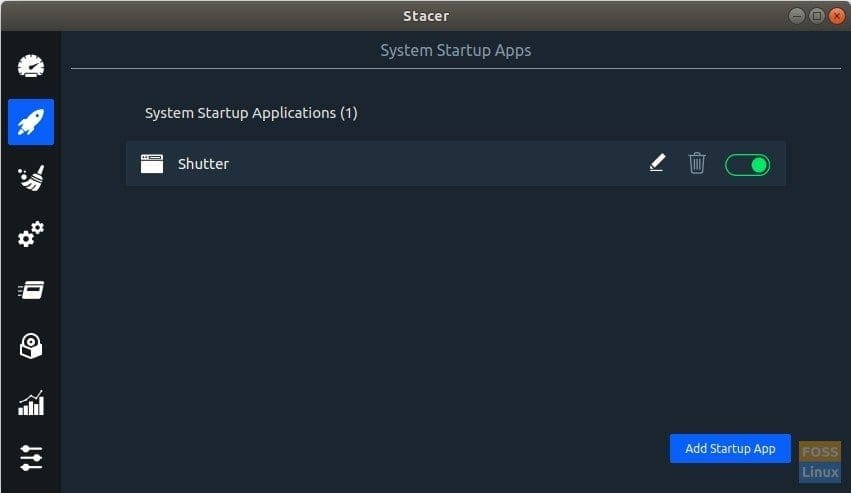 System Start Apps tab lets you manage the existing startup apps, and also add new startup entries if needed.
3. System Cleaner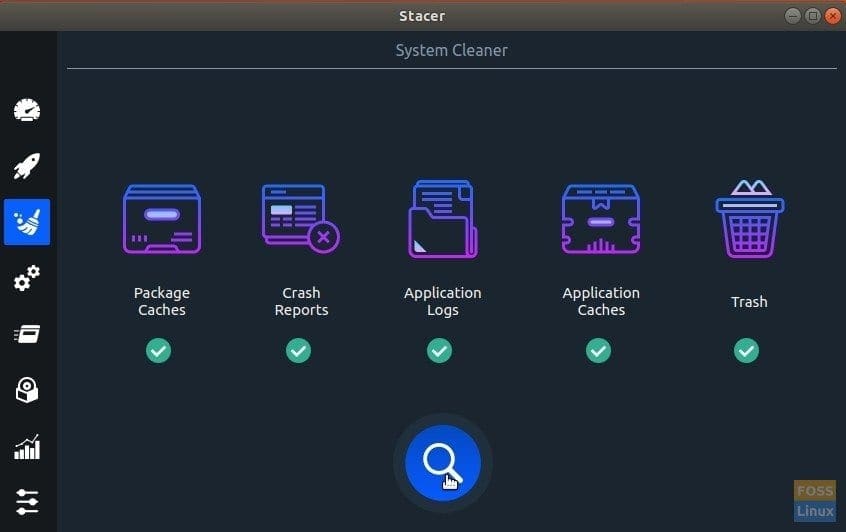 This is my favorite part of this tool – System Cleaner. If you have been a Windows user, you might be aware of Ccleaner.  Similar to Ccleaner, Stacer also has powerful features that are enough for most of end users. It gets rid of Package Caches, which can occupy significant amount of Hard disk space over a period of time. Additionally, it cleans Crash Reports, Application Logs, Application Caches, and also empties Trash for you.
4. System Services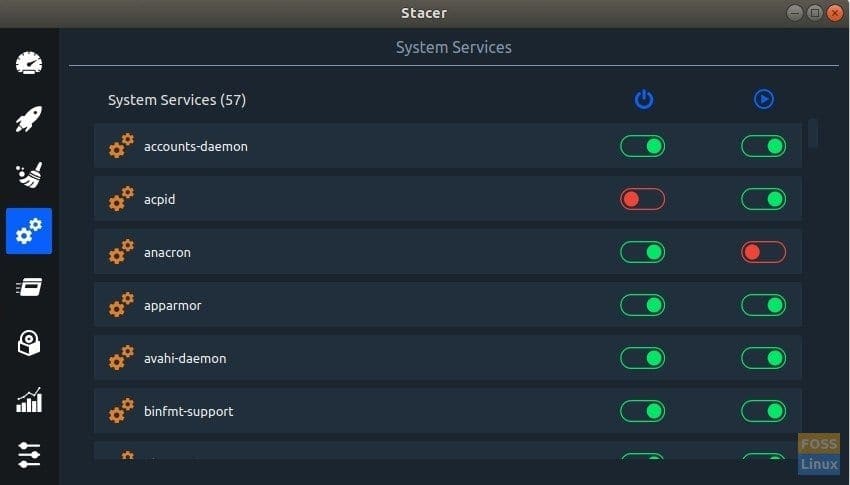 System Services tab lets you manage currently running system processes. For troubleshooting purposes, you can start/stop system processes. I advice caution while managing system services, especially for new Linux users. I recommend not to use this tab unless you know what you are doing. Turning off important system processes can cause adverse effects to your system.
5. Processes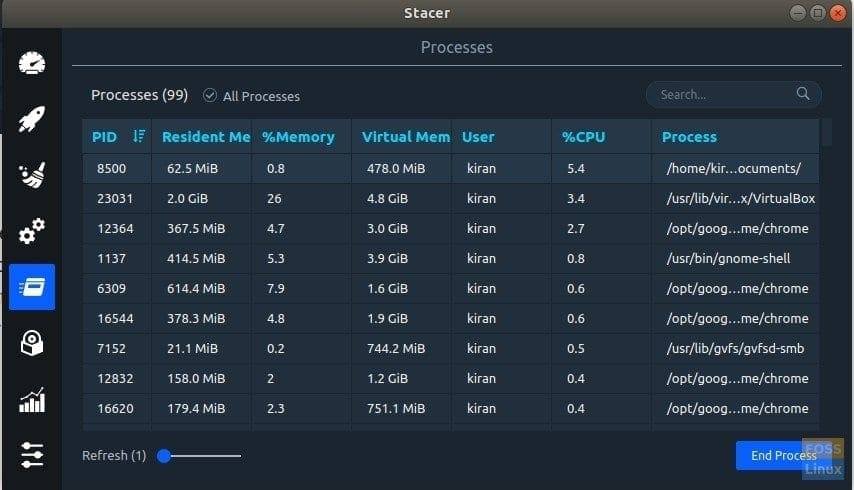 This feature is similar to "Task Manager" in Windows. You can view running processes and view amount of system resources consumed by each process. To kill a process, select it and then click "End Process" button.
6. Uninstaller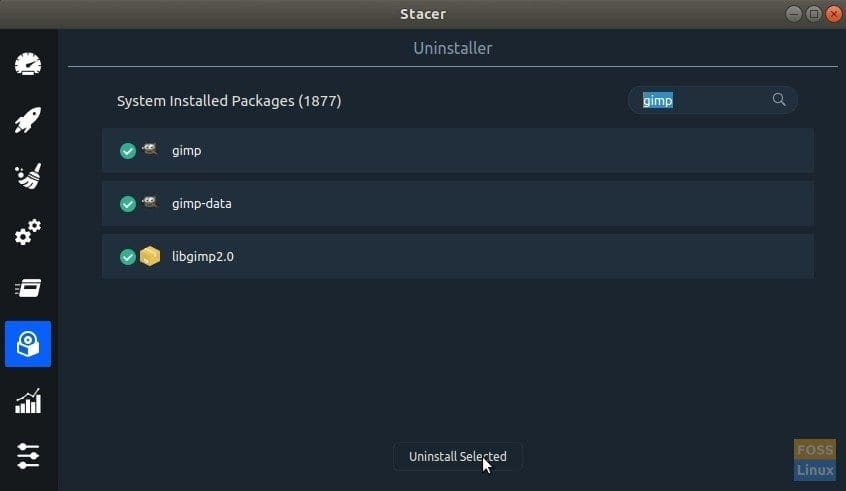 Uninstaller is included in this program. The downside is you will see tiniest system apps and apps that you installed to. Use the search functionality to avoid scrolling through thousands of little apps installed in your computer.
7. System Resources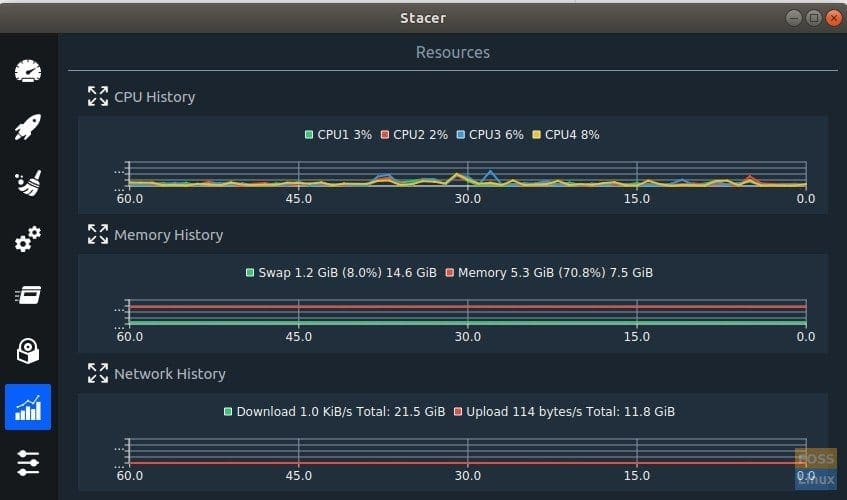 System Resources tab comes in handy for taking a look at summary and historical usage statistics of CPU, Memory, and Network.
That's it! Hope you enjoy using Stacer for optimizing your system. Do let us know your feedback in comments below.