Making its way into the world somewhere in the 1960s, Computer-Aided Design, or better known as CAD, has thoroughly revolutionized design and drawing, constituting a multi-billion market in the US alone. Today, this technology is extensively utilized in engineering-based manufacturing industries and design creations. Products are bought, sold, and traded in millions of Dollars, and this is how CAD flourishes in sectors.
From manufacturing space crafts and vehicles in Aerospace to playing a massive role in diverse fields such as Architecture, Fashion, Cartography, and Automotive industries, CAD has its roots deeply driven in almost every element of substance in the world. The software in question lays out the groundwork for the design basically, and it's from there on that the final product is built. This doesn't mean CAD has no place in your personal life. Software like FreeCAD, Sketchup are very helpful for even designing your home furniture!
Free and Open Source CAD software
This automated method of drafting has lent immense convenience in comparison with the more traditional approach. Also, they have proven to be quicker, more user-friendly, inexpensive, especially for large-scale projects, and upright better. The following are ten of the best open-source CAD software that doesn't cost a dime.
1. FreeCAD
Kicking off this list is the brilliant FreeCAD that has been making lives more comfortable since 2001. It's a top-of-the-line CAD software loved by beginners and experts alike. As the name does it justice, the software is free, and you're not going to spend anything using FreeCAD. It's fast, efficient, and truly reliable. I haven't had to look further after using this parametric 3D modeler.
FreeCAD is jam-packed with features, making it one of the best open-source software out there in this regard. For instance, import and export options are available in different formats like STEP, IGES, OBJ, STL, DXF, SVG, and STL. Moreover, one of the key features includes a geometry kernel that's based on Open Cascade Technology, allowing the most complicated 3D operations to be performed effortlessly.
For a CAD software that comes without costing you anything, FreeCAD has to be one of the most high-performing mentions in the list that even includes a Robot Simulation mode, where you can examine robotic movements in graphical surroundings. More modules to be highlighted in FreeCAD are Technical Drawing, Architecture, Rendering, and a Path module. Compatibility begins from as simple as Python to as tricky as C++.
What makes FreeCAD genuinely worthy of a free-of-cost software is the fact that all FreeCAD objects within are natively parametric, meaning that FreeCAD is entirely parametric from the ground up. Its Graphical User Interface (GUI) is based on the Qt framework, and the 3D viewer option works following Open Inventor- a 3D graphics designing toolkit. It's a multi-platform application and runs painlessly on macOS, Linux, Windows, and other platforms without a hassle.
2. QCAD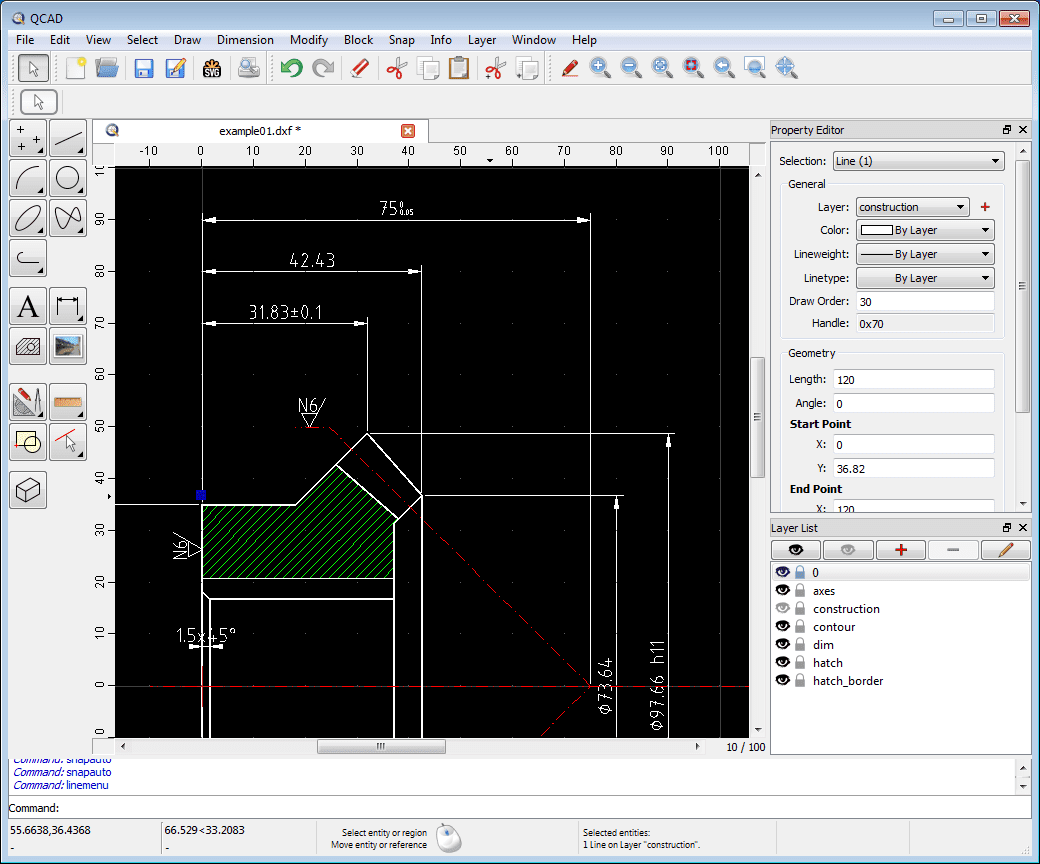 The second pick on the list is QCAD- an open-source and free 2D CAD software that's become very popular over the years. The developer behind this system is RibbonSoft, who began forming QCAD back in 1999. Anyway, this software application is written in C++ while being based on the Qt framework. It's ECMAScript (JavaScript) interface allows it to be thoroughly customized and attributes to extensions in the CAD program itself.
It falls under the GPLv3 license, which is a famous open-source license, along with some other exclusive plug-ins. QCAD is a multi-platform software and works great on Linux, Mac, Windows, Unix-like operating systems, and more. A highly stable version was released on April 12, 2018, and it's been smooth sailing ever since then. You will have quite a profound experience using QCAD as you venture on to design plans for buildings, mechanical parts, schematics, diagrams, and more.
It has an intuitive interface that's always striving to make usage undemanding for you. It's easy to use but a very powerful software at your disposal, excelling in designing simple to more complex plans without a worry. Besides, you get a comprehensive collection of modeling and design tools that bring nonpareil convenience to users. QCAD genuinely offers a ton of functionality, and we can assume why it has become exceedingly well-known over the years.
3. SALOME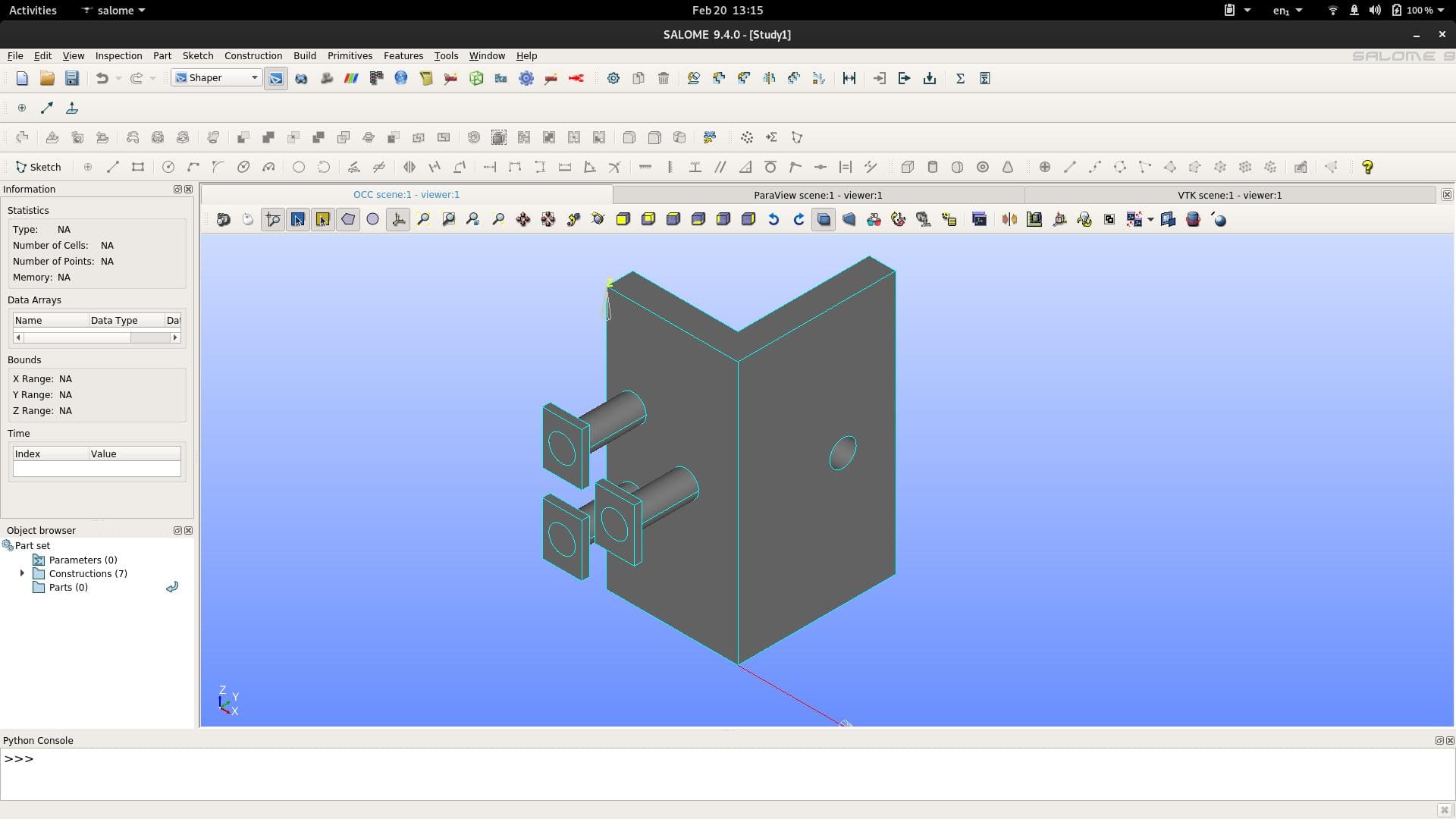 The reason we picked SALOME as the third mention on the list is because of its unmatched capabilities and portability as an open-source, free CAD software with a widely increasing community. Salome excels in the post-processing of numerical simulations and works great for industrial designs. It's a subsidiary project of OpenCascade, and, as mentioned before, has accumulated a significant userbase. SALOME utilizes various CAD and CAE modeling tools with over-the-top visualizations techniques.
SALOME has built-in support for Python, but itself is written in C++. It's also supported on multiple platforms such as Windows, macOS, Linux, and Unix-like operating systems. It gives you complete access to the code base, negating any unnecessary time spent outdated APIs. Also, it comprises industrial meshing algorithms, and its highlighted geometry editor can import XAO, STL, IGES, BREP, and STEP files. The program falls under the Lesser General Public License, and a stable version of SALOME was released on December 21, 2018.
For computing numerical simulation, SALOME takes pride in an uncomplicated integration process in heterogeneous systems.  The way it's built minimizes effort and values your time, providing a prompt and proficient working environment. Even more so, the Python console makes sure you have access to all tools and functions, and you're not settling for anything other than the best. SALOME costs nothing to download and install and is one of our top recommendations on this list.
4. LibreCAD
LibreCAD is one of the most decorated CAD software you're going to read about in this list. To begin with, it's free, open-source, and packs a plethora of impressive features not found in other CADs. At its very core, LibreCAD is a 2D software that's written in C++ and supported on mainstream platforms like Linux, Windows, and macOS. Moreover, its high-performing version dates back to September 23, 2016, making it pretty apparent that LibreCAD is relatively well-grounded.
To talk about the quality traits, LibreCAD features genuinely synergetic geometry designs, raytracing for analysis, benchmark suites, designs for circuit boards, mathematical figures, and more. To top it off, the interface in which all this happens is tremendously intuitive. To make imports from other CAD software easy and hassle-free, LibreCAD supports DWG and DWF file formats too.
Furthermore, LibreCAD being open-source, there is immense support for plug-ins that allow you to add highly facilitated tools, merely by installing a third-party plug-in. For 2D modeling, we beg to differ that there's another more capable, more robust software than LibreCAD.
5. OnShape
The 5th spot on the list belongs to OnShape- a class above other CAD software, bringing you a highly distinct designing experience. This is because OnShape is cloud-based and offers services on the web. Without the unwanted worry of losing precious data over a sudden power outage or any other incident, OnShape frequently saves your data on the cloud, preventing significant losses and data wastage.
This CAD software lets you formulate complex models within your browser without having to download or install anything. OnShape is well-known for its assemblies and an excellent user interface. Therefore, for it to perform exceedingly well, it consists of parts, drawings, and the obvious, assemblies. It's nothing less than a premium CAD software, but it's dashingly free for students, educators, and tinkerers.
OnShape lends extreme versatility from its database of architectural designs and paves the way for a highly detailed designing experience. It measures up to be one of the most capable cloud-based CAD software in the world right now and is a cut above the traditional approach.
6. HeeksCAD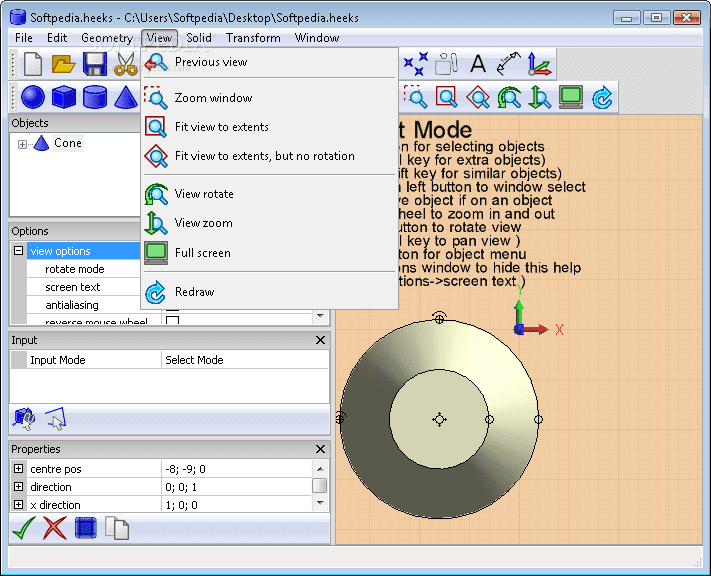 Developed by Dan Heeks and written in the famous C++ language, HeeksCAD is an established CAD/CAM software that operates on Linux, Mac, and Windows, and is fully open-source. It features some exciting hallmark tools and can set you up for good if you plan on using it long-term. It's a breeze to set up and comprises an easy to install file that runs the program hassle-free.
You can design 3D models uninterruptedly using HeeksCAD, and the software lets you add more tools to program, and that too directly from the main menu. This goes on to show that the application's interface is carefully designed and is easy to navigate. Moreover, it makes excellent use of local coordinate systems and has compatibility for cubes, spheres, cones, cylinders, and a lot more for 3D models.
Being open-source, HeeksCAD uses the mesmerizing OpenCascade Technology for designing and modeling and also uses Widget Toolkit extensively. All in all, we believe that HeeksCAD is a reliable option for your parametric modeling needs, and amounts well in the user-experience.
7. NanoCAD
It would be a withering shame not to put NanoCAD on the list despite the software offering only paid versions, although minutely low-cost. It's a powerful multi-purpose professional level CAD tool that delivers exceptional value for your buck. The software is adorned with regular, reinvigorating updates, and terrific customer support to maintain a quality standard. There's a NanoCAD Plus version as well, which contains even more features for an inexpensive yearly subscription.
NanoCAD is only compatible with Microsoft Windows and provides the applications of a drafting software beyond expectations. It uses the DWG file format natively, with a tab editor on par with Microsoft Excel, only with more added capabilities. Being even more convenient, NanoCAD also runs offline and boasts a classic user interface design that's sure to keep users hooked and interactively interested.
Explicitly speaking, NanoCAD is excellent for those industrial companies looking to recreate similar products without having to go through the ordeal of the drafting phase repeatedly. Also, for the automation of complicated CAD designs, NanoCAD incorporates numerous end-user APIs in this regard. In conclusion, NanoCAD is a worthy investment that's going to cost you a lot less than its rivals, thereby earning a spot on this list.
8. BRL-CAD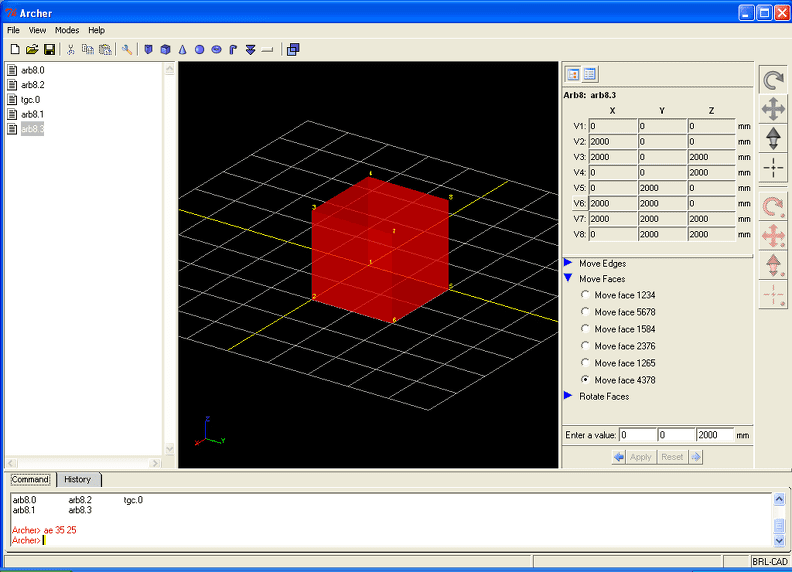 BRL-CAD has its operations running on several platforms as CAD software and is the oldest one on the list. This application has aged very well. It's written in C and C++ and seamlessly functions today on Windows, Solaris, Linux, Mac, and more. It's more than 35 years old and was initially developed by Mike Muus at the Army Research Laboratory.
With a broad reach over a million lines of source code, BRL-CAD represents more than 400 different constituent tools and subsequent applications. The software's primary focus is stable modeling and features "Raytracing" for visualization and advanced geometry. Moreover, you can comfortably form models in an algorithmic manner instead of having to do them manually. To top it off, the fact that BRL-CAD boasts a true-to-life performance of designs and models makes it one of the best CAD software out there.
9. SolveSpace
SolveSpace has measured out to become a personal favorite for many. In terms of elegance, speed, and quick responsiveness, this CAD software is an excellent open-source tool for your modeling requirements. It's a parametric 2D and 3D CAD program that's supported on Windows, Mac, and Linux as well.
The key highlights of SolveSpace include drawing and designing with Boolean operations, extrudes, and revolves. You can use export functions in SVG, DXF, PDF when modeling 2D elements. It also allows you to handle spreadsheets involving trigonometry with live drawing. Furthermore, you can use the "Constraint Solver" feature to functionalize planar and spatial linkages utilizing the ball, pin, and slide joints.
10. SketchUp
SketchUp is an excellent tool for professional-level 3D Modelling and has well-crafted features and design. It has a role in many industries today, such as video game development, architecture, interior design, and more. SketchUp has paid subscriptions, but it offers a free version for personal use on the web, making it worthy of being on this list.
Enjoy a substantial overhaul of quality features that make SketchUp what it is today- an efficient CAD tool. It attributes to smooth rendering, quickly designing 3D models, and storing projects in DWG format. The open-source collection of model assemblies provide SketchUp with unrivaled versatility and combined with its notable 3D Warehouse exhibition; you're presented with an excellent opportunity to interact with an ever-growing community.
Conclusion
The technology of CAD has brought relentless ease and comfort in many aspects of three-dimensional designing and manufacturing products worldwide, being the multi-faceted innovation that it. As we've compiled the ten most useful and free open-source CAD software for you, be sure to give them all a try to determine the tool that's on the same page as you.