Spotify is a very popular online music, video, and podcast streaming service with over a million songs in its database. Every music lover should at least give a try to see if it fits their needs.
In this tutorial, I will show you steps on how to install Spotify in Solus Linux distro.
Install Spotify in Solus
Spotify can be installed in Solus by two methods i.e. command-line way via Terminal and GUI way by using Software Center.  Spotify is included in the Third-party category in the Software Center. However, I recommend going by the command-line way because the Software Center in Solus is buggy as of today. It is known to freeze at times and doesn't respond leading to incomplete installation. Also, you never know what's going on in the background.
Command-line method:
Step 1: Launch 'Terminal' app.
Step 2: Copy & paste the following command and hit enter. You will have to enter your root password.
sudo eopkg bi --ignore-safety https://raw.githubusercontent.com/solus-project/3rd-party/master/multimedia/music/spotify/pspec.xml
Step 3: Pay attention to the Terminal and type 'yes' when needed.
Step 4: Finally install Spotify. Type 'yes' when prompted.
sudo eopkg it spotify*.eopkg
Step 5: After installation is complete, check if you can see launch it from the programs. If it's not there, log out and log in again. If everything is good, you can clean up the installation package. Note that cleaning up eopkg doesn't mean uninstallation, but it's like deleting the downloaded installer. Run this command:
sudo rm spotify*.eopkg
That's it.
GUI method:
Step 1: Launch 'Software Center'.
Step 2: Click on 'Third-Party Software' tab.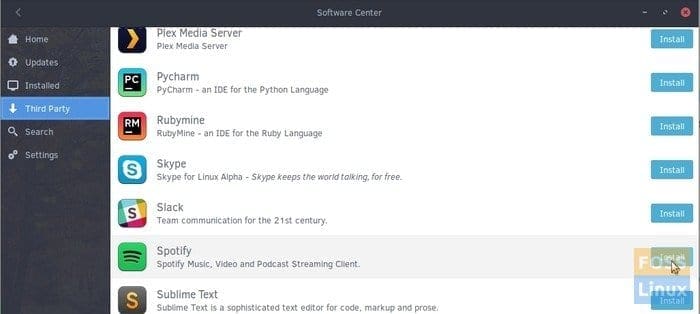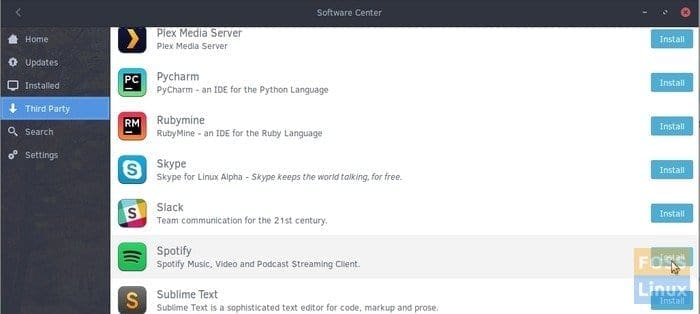 Step 3: Look for 'Spotify' and install it.
Uninstall Spotify in Solus
To uninstall Spotify, simply run the following command in Terminal:
sudo eopkg remove spotify
That's it!