WPS Office is unarguably the best looking and feature-rich Office suite for Linux. Its free version includes Writer, Presentation, and Spreadsheets. It comes with a ribbon user interface and can edit & save in corresponding Microsoft Office suite formats.
If you are a Solus OS user, you will not find the binary download package in the WPS Office official website. But don't worry, Solus team has packaged the binary and can be easily installed.
Install WPS Office in Solus
You can install WPS Office by the command-line method and GUI method. I prefer the command-line method as of now due to buggy Software Center interface. It is known to become non-responsive at times, and also you never know what's going on in the background.
Command-Line method:
Step 1: Launch Terminal.
Step 2: Copy and paste the following command line into the terminal and hit enter. For pasting in the Terminal you need to right-click and select 'paste'. Ctrl + V won't work in the 'Terminal'.
sudo eopkg bi --ignore-safety https://raw.githubusercontent.com/solus-project/3rd-party/master/office/wps-office/pspec.xml
Step 3: Install the WPS Office.
sudo eopkg it wps-office*.eopkg
Step 4: After installation is complete, log off and log in again.
Step 5: Check if WPS Writer, WPS Presentation, and WPS Spreadsheet are installed. If not, try the same steps again.
Step 6: After a successful installation, you can clean up the installer which is no longer needed.
sudo rm wps-office*.eopkg
GUI way:
Step 1: Launch 'Software Center'.
Step 2: Click 'Third-party Software' tab.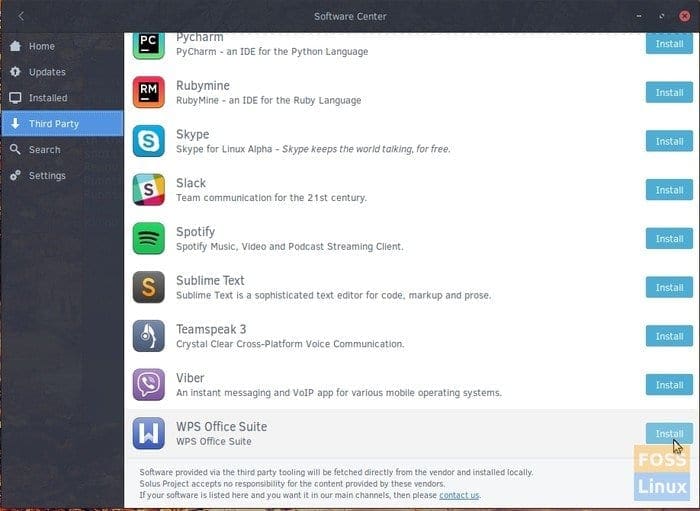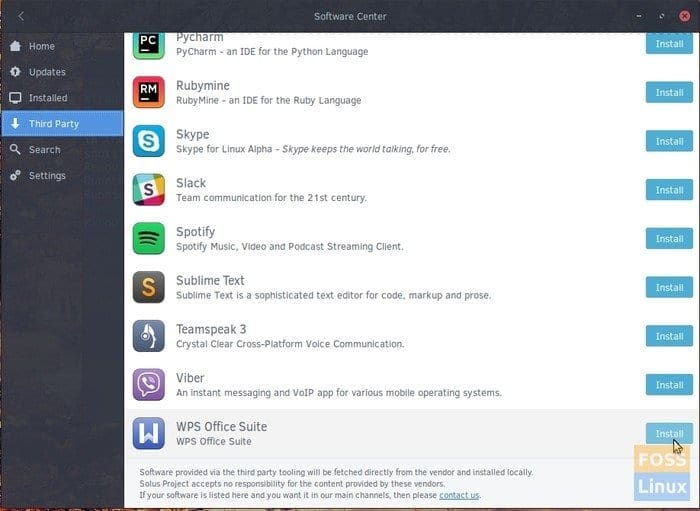 Step 3: Look for WPS Office and then click 'Install'.
Uninstall WPS Office from Solus
To uninstall WPS Office suite from Solus, launch 'Terminal' and run this command:
sudo eopkg remove wps-office