This article is for all Linux users looking for video editing apps to create their professional videos, ranging from short documentaries to even movies.
There's often this misconception that there are not that many quality video editing software for Linux — however, this is not the case. With the growing popularity of Linux-based operating systems, open-source app developers and companies have no choice but to focus on making software specially designed for Linux distros. Accordingly, you can find several video editors on the internet for almost any Linux distribution that you are using.
The 10 Best Video Editors for Linux
Choosing the perfect video editor can be quite problematic for some, but this is where FOSSLinux comes into play. We have compiled a list of the best Video Editors for Linux for your convenience.
In this article, we discuss all the relevant details, including the pros, cons, and salient features of each.
Note that these are all dedicated apps; the list comprises only dedicated apps that must be installed on your Linux PC to use them. Henceforth, your Linux PC hardware must be capable enough for smooth video editing. Alternatively, you can choose online video editors such as Clipchamp, which is cloud-based. Cloud-based video editors can run just fine even on a low-end PC; you need a web browser and a good internet connection.
1. Kdenlive
Hands down, Kdenlive is potentially the best video editing software for Linux out there right now! What sets it apart from the other video editors is that it is free and comes with a bunch of powerful features as well.
Built on Qt and the KDE Frameworks libraries, Kdenlive's most video processing is done by the MLT Framework, which relies on open-source projects like FFmpeg, frei0r, movit, ladspa, sox, etc.
This video editing software offers customizable layout support, a clip list, a multitrack timeline, automatic backup, keyframe special effects, and transitions. Are you using any unique file format or camcorder? Not a problem — Kdenlive supports almost everything available. It should also be mentioned that Kdenlive supports Mac OSX and FreeBSD. Another important feature is Proxy editing. This nifty feature can automatically create low-resolution copies of your source clips to allow lightweight editing and then render using full resolution.
Note: As the editor is aimed at professionals, newbies might find it difficult to operate. Some basic knowledge of video editing is needed to utilize Kdenlive fully.
Kdenlive can be installed on almost any Linux distro, including Ubuntu, elementary OS, Fedora, Manjaro, Arch Linux, Linux Mint, etc. Visit the official download page to grab your copy.
2. Shotcut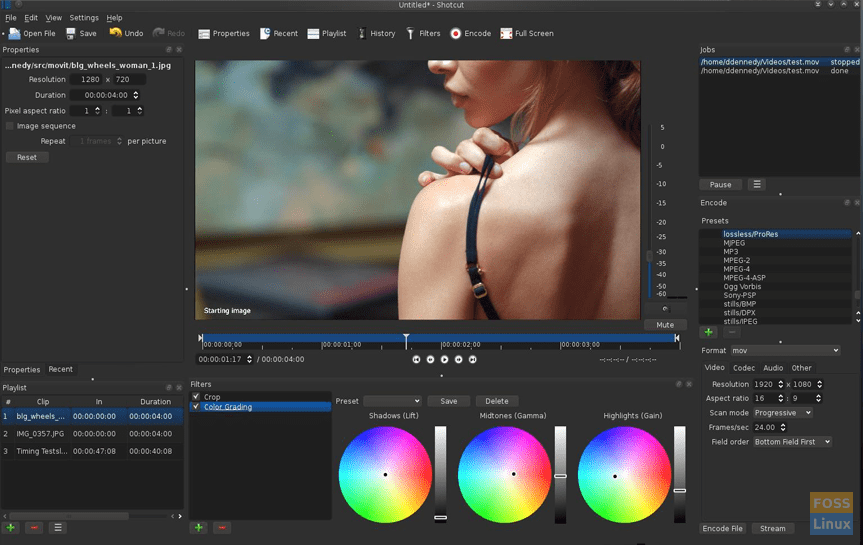 Shotcut is another free, open-source, and cross-platform video editor. Unlike Kdenlive, novice video editors will be able to get a full-fledged experience with Shotcut as it is relatively easy to use. It comes with a wide range of features, including native timeline editing, video transitions and filters, and a multitrack timeline. It supports keyframes for filter parameters and 3-point editing. If you quickly need to delete the audio from a video clip, Shotcut gets it done.
Moreover, you can also edit audio and 4K videos through it. In addition to that, it supports external monitoring. On the audio front, it supports JACK transport sync, audio mixing across all tracks, stereo, mono, and 5.1 surround sounds support.
Despite its features, we do not recommend Shotcut for professional purposes as the software is limited to only basic video editing. Shotcut can be executed on any Linux distro due to the availability of the AppImage version.
3. Lightworks Free
This video editor for Linux systems is suitable for professionals in video editing, as the features go beyond the realm of novice editors. The award-winning non-linear editing (NLE) software supports 4K, Blu-Ray, and even SD and HD video formats. Alongside those features, you will also find Low-Res Proxy workflows for 4K and drag-and-drop support.
It has a voice-over, and recently, Mackie MIDI support was added for Linux users. Lightworks offers the most comprehensive support for analog and digital connections, including 12G, 3G-SDI, Optical audio, HDMI 2, and AES/EBU connectors.
The developers have also added some high-quality video and audio filters and effects aimed at professionals. Unfortunately, this software is not entirely free as it comes in two versions: Lightworks Free and Lightworks Pro. The difference between them is that the latter supports different video formats, while the former does not. Lightworks is available for Windows and Mac OSX as well.
LightWorks is available in executable DEB and RPM formats. Grab it from the below link.
4. OpenShot
We are pretty sure that you won't be able to find a video editor as user-friendly as this one. If you are new to video editing, OpenShot would probably be the best option. It is easy to use, but it also comes with a handful of exciting features.
With this editor, users will get numerous titles, transitions, and support for most video and image formats. You also get a fantastic export feature to export files in various formats. As previously mentioned, the software caters to the demands of novice learners; expert users need not be disappointed; it provides support for professional video formats such as 4K.
OpenShot has several exciting audio editing features built-in, such as visualizing waveforms on the timeline or rendering the waveform as part of your video. Moreover, it lets you split the audio from the video clip and adjust each audio channel individually.
OpenShot is entirely free — and can also be installed directly through your operating system's app store. It is available in AppImage format, which means you can download and run it on any Linux system.
Download OpenShot Video Editor
5. Flowblade
If you're facing lagging issues with other video editing software, we suggest giving Flowblade a try. This video editor has been written in Python, making it run faster and smoother than all of the other competitors.
Like OpenShot, it is straightforward to learn and use this software. Flowblade gives its users the features of video transitions, watermarks, batch rendering, and drag & drop support. In addition to that, it also supports various image/audio/video formats. It also supports proxy video editing. As I already mentioned, it's a method of editing in which original media clips are presented on a timeline by proxy clips for lightweight editing. The full resolution of the video will be used while wrapping up the project.
What makes it feather-light on system resources is the dedicated Batch Render Queue application in Flowblade. Batch Render Queue is a separate application to Flowblade and runs on a different process, so it is possible to close Flowblade without affecting ongoing renders.
Are you fascinated by Flowblade? It requires only one visit to your distro's app store to be installed. Alternatively, head over to the official website to download it.
6. DaVinci Resolve Free
This is the most professional video editor for Linux available in the market. DaVinci Resolve is a powerful video editor commonly used by cinema production houses all over Hollywood. It comes with unique features such as editing, professional audio post-production, and color correction, enabling professionals to create TV shows and movies.
It is an all-in-one suite packed with multiple editors, which means assistants, colorists, and VFX artists. Also, the sound designers can all work on the same project concurrently. Moreover, it also supports non-linear VFX.
DaVinci Resolve is prepackaged with full Fusion visual effects and motion graphics. The Fusion page gives you a complete 3D workspace with plenty of tools for compositing, vector paint, keying, rotoscoping, text animation, tracking, stabilization, particles, etc.
Other features include a new LUT browser, shared grades, multiple playheads, Super Scale HD to 8K up-rezzing, stacked timelines, on-screen annotations, subtitle and closed captioning tools, etc.
Due to its professional-grade features, DaVinci Resolve is not free. You can still try its free version to see if the software is a fit for your video editing needs or not.
7. Blender
Similar to Lightworks and DaVinci Resolve, this video editor is aimed at expert-level users, but the best thing about it is that it is free. However, it focuses more on 3D animation than regular video editing. It is extensively used for 3D modeling, VFX, Animation, Simulation, Pipeline, and Game creation.
Blender provides you with filters, transitions, keyframes, adjustment layers, speed control, live preview, histogram displays, luma waveform, and chroma vectorscope on the video editing front. Apart from that, it also provides the ability to mix, sync, and scrub audios.
All of these extensive features mean that it also comes with a steep learning curve, making it unattractive to novice video editors. Unarguably, it is the best example of a product of a free and open-source community.
Blender is available in almost all software app stores for free.
8. VidCutter
This one is not an entire video editing photo suite, but I chose to include it to perform only tasks – Video cutting and joining. When people are searching for a video editor to download, most of the time, it is only for basic purposes. VidCutter should be your go-to software if you only want to cut and merge video clips, as the name implies.
Because of its simplicity, almost anyone can use it. You can install it directly through your app store. It's also available in AppImage format.
9. LiVES
LiVES is a video editing software that is both powerful and user-friendly. It allows basic cutting, merging, saving, and re-encoding of clips. Plus, it also comes with a collection of special effects and filters.
It offers smooth playback at variable frame rates, forward and in reverse. It supports Frame accurate cutting and pasting within and between clips. Like most powerful video editors, LiVES can accommodate live firewire cameras and TV cards.
In the Audio editing segment, it can load mp3, vorbis, mod, it, xm, and wav files. Audio can be trim fit to video segments. It supports (auto)inserting of silence and deletion of audio sections. If necessary, its functionality can be further extended through RFX plugins.
LiVES is relatively new to the community. Therefore, it's not available in most Linux distro app stores. You will have to compile it from the source.
Download LiVES
10. Pitivi
Like VidCutter, it allows you to do basic editing tasks such as trim, cut, snap, split, and mix your videos. For people who aren't that well-versed in English, the software supports several other languages. Before using it, you should probably read its documentation, which comes with a lot of helpful information on using this software.
In a nutshell, the program provides a hardware-accelerated and touch-capable user interface. It supports unlimited video/audio track layers, full undo/redo history, Trimming, cutting, sound mixing of multiple concurrent audio layers, volume keyframe curves, keyframe audio effects, etc.
Pitivi generates thumbnails and waveforms in the background without disrupting your workflow to give you the best performance.
Pitivi is available in most common Linux software centers. You can download pre-built packages, too, if you want it that way.
Conclusion
Using Linux does not mean that you can't have high-quality software on your system. Apart from the video mentioned above, editors, there are tons of other software available in the market for Linux. Some of them are aimed at professionals (just like Lightworks, DaVinci Resolve, and Blender), while others cater to the requirements of beginners (similar to Shotcut and VidCutter). Moreover, you will also be able to quickly download and install video editors on your Linux system, as most are already available on the app store.
If you think there's a video editing software that should've been made into this list, feel free to comment below.