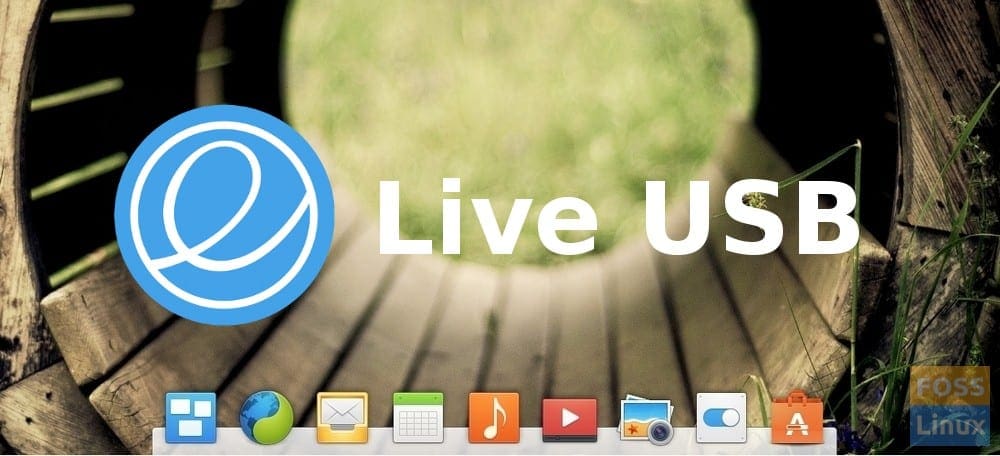 One of the most used applications of Linux is the Live CD feature which now-a-days has become Live USB as CDs are almost in the verge of extinction. Elementary OS Freya is a great looking and light weight distro and one would like to have a trial run before making it as a daily driver, hence the need of making a Live  elementary OS USB. Let's make one.
Download elementary OS
You can grab you free copy of elementary OS directly from developer's website. Note that when you go to download, at first you may get surprised to see a mandatory donation payment for activating the download link. Don't worry, it's completely free. All you need to do is enter 0 in the donation box and download link with be available immediately. I bet many of you are not sure it's going to your daily driver distro and just want to test it out before you think of donation. If it turns out to be favorite, please make sure to donate to them for their hard work and to keep the project live and healthy.
Get elementary OS
You should see a ISO file downloaded. For instance, mine is a 64-bit version : 'elementaryos-0.3.2-stable-amd64.20151209.iso'
Create a Bootable USB Drive in Windows
Grab a USB drive with at least 1 GB free space. We shall use a free utility 'Rufus' for creating a bootable USB installation drive. So go ahead and download it.
Download Rufus
It is a portable version, hence just download and run the executable. Your USB drive will be formatted during the setup process, so make sure to take a backup of data in it. Click on the drop down list in the 'Format Options' and select 'ISO Image'. Click on the icon next to it, browse through and select the elementary OS ISO file that you download earlier. Other things to see in the Rufus settings are the 'File system' which is usually the default FAT system or FAT 32 should also work too, and the 'Partition scheme and target system type' which is typically 'MBR partition scheme for BIOS or UEFI' for most of PCs and laptops.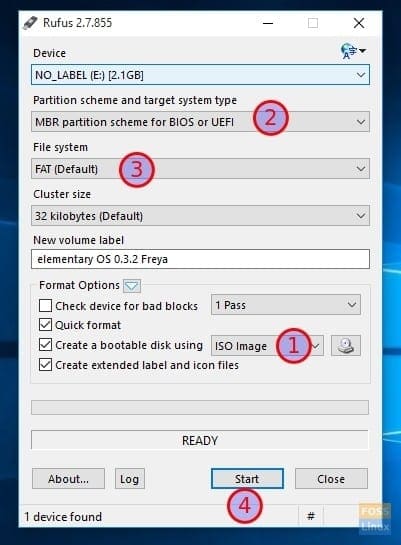 Once you have everything set right, click 'Start' and Rufus should create a bootable elementary OS Freya installation USB for you. Next step is to plugin the USB drive to your computer before starting Windows and boot into it. This part is not generic and there are different methods of booting into USB drive depending on the PC make, but if you ask me what's the most common scenario, it's the pressing of F12, F6, or Esc key during startup to get a boot menu and then select USB drive to boot into it.
elementary OS Live USB
After it boots into the elementary OS, you will have to choose the language and then click 'Try elementary'. 'Install elementary' is for those who would like to install elementary OS in their PC. 'Try elementary' option is to test drive and booting into it as Live CD.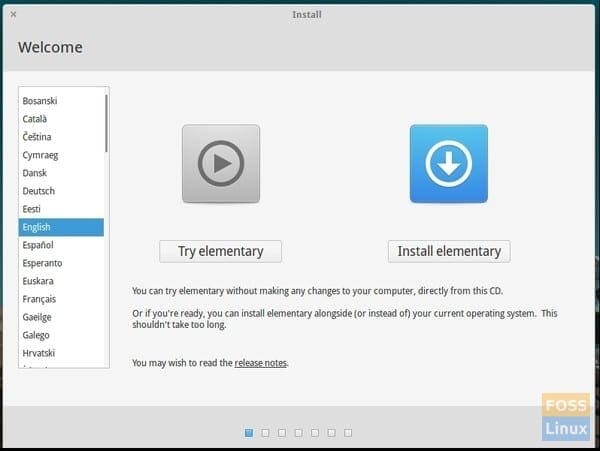 Welcome to elementary OS Freya!Note that you won't be able to save anything in this mode. You can however access all Windows partitions and their files as well. In case you have Windows 10 installed and you are trying to access that partition, then you may end up with denied access error. This is due to Windows 10's fast startup feature. You have to turn it off to access the Windows 10 file system and documents. That's it.