LibreOffice 5.3 is not yet available in Fedora's software center. If you are LibreOffice user, then version 5.3 should make you super happy. It comes with the much-awaited ribbon interface and tons of new features. In fact this is the biggest upgrade in LibreOffice's history!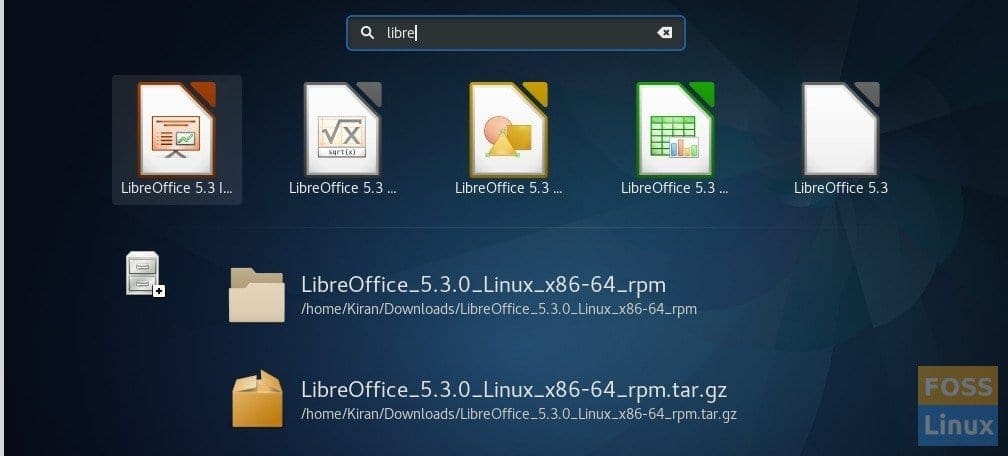 Before installing version 5.3, I recommend to uninstall the previous version as conflicts may arise. To remove the previous version launch 'Terminal' and enter the following command:
sudo dnf remove libreoffice*
Enter root password and then enter 'y' when you see the prompt in terminal.
Install LibreOffice 5.3 in Fedora
STEP 1: Download LibreOffice RPM binaries from official webpage.
Download LibreOffice 5.3 64-bit version
Download LibreOffice 5.3 32-bit version
STEP 2: Extract the contents of the downloaded tar.gz file.
STEP 3: Launch Terminal and navigate into the RPMS sub-directory in the extracted folder. Notice that you folder name may be different.
cd Downloads
cd LibreOffice_5.3.0.3_Linux_x86-64_rpm
cd RPMS
STEP 4: Enter the following command to install all the RPM binaries in that folder.
sudo dnf install *.rpm
That's it.