Manjaro ships with Firefox browser by default settings. If you are a Google Chrome user, you should be knowing by now chrome browser is not available from the Manjaro's Package Manager. There is the Chromium browser, which is near equivalent, but for a complete Google experience, Chrome is the obvious choice for most users.
In this article, you will see the easiest way to install the Google Chrome browser. This guide is fully tested on Manjaro 17.0.5 but should work on lower and upcoming versions as well in near future.
Installing Google Chrome in Manjaro
STEP 1: Click the start menu and select 'Add/Remove Software', which is nothing but 'Package Manager'.
STEP 2: In the 'Package Manager', click on the breadcrumb and select 'Preferences'.
STEP 3: Click on the 'AUR' tab. This is the Arch User Repository where you will find hundreds of community developed packages. The package maintainer user Package Helper to download the browser from Google servers and compiles it for Arch Linux based distros. It has been trusted for 7 years or so. So don't worry – it is safe.
STEP 4: Enable AUR support by turning ON the slider button. Also, check the box 'Check for updates from AUR'. Click 'Close'.
STEP 5: Select 'AUR' in the left pane, and then search for google-chrome'. Click 'Apply'.
STEP 6: Google Chrome will now be downloaded from the repository servers. Unfortunately, the servers aren't super fast. So be patient, it is going to take some time.
STEP 7: Click on 'Details' to see the progress. After installation is complete, you should see 'Transaction successfully finished'. The wording sounds like some bank transaction, but don't worry, it is a free download.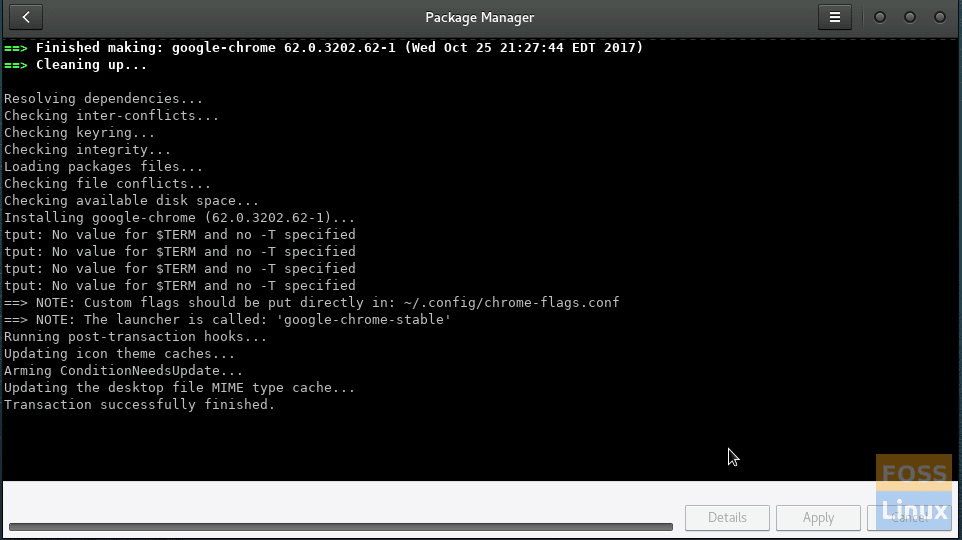 STEP 8: Close 'Package manager' and look for 'Chrome' in the start menu. Enjoy surfing!