Antivirus Live CD or USB drives come in handy at times when your computer is infected with a virus and other malware. Majority of virus work only in Windows OS. This malware can't damage a Linux system because they can't be executed in the Linux environment.
By using Linux OS, you are already reducing the virus risk to the minimum, but things become complicated to control in a dual boot PC with Windows in it. You don't want your machine to be a medium for transferring the malware to your friends' PC.
Here is how you can quickly create an Antivirus Live CD/USB drive which uses the popular ClamAV scanner engine. ClamAV is an open source (GPL) anti-virus engine used widely for situations including email scanning, web scanning, and endpoint security. It provides a number of utilities including a flexible and scalable multi-threaded daemon, a command line scanner and an advanced tool for automatic database updates.
Creating ClamAV Antivirus Live USB drive
Step 1) Download the latest ISO image from below link:
Download Antivirus Live CD ISO
Step 2) For burning the ISO image to a USB flash drive, I suggest to use UNetbootin. It is a free application and works on Linux, Windows, and macOS.
Step 3) Insert a blank USB flash drive to the USB port of your PC. I suggest using a minimum of 512MB capacity. The USB drive will be completely formatted in the process.
Step 4) Launch UNetbootin.
Step 5) Select "Diskimage" radio button and "ISO" from the drop-down list. Then browse and select the Antivirus ISO image. You should browse through / > Home > username > Downloads.
Select "Type" as "USB Drive". You should automatically see the flash drive mounted. If not mounted, you may have plugged in the USB drive after launching the app. Simply relaunch the app and you should be fine. Click OK when you are done.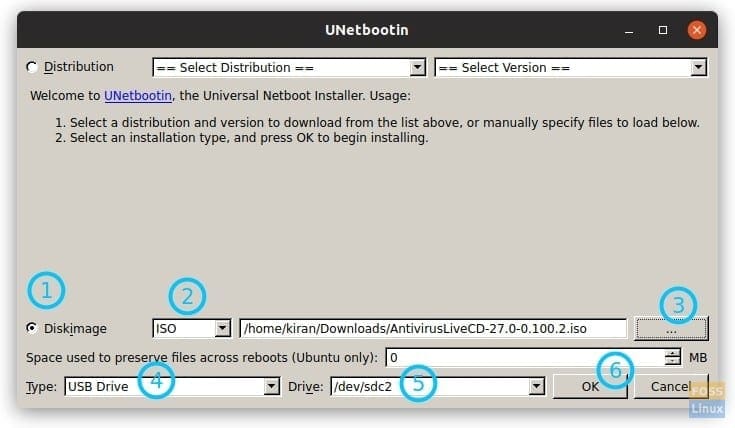 Wait for the process to finish. Congrats! Your Antivirus Live USB drive should be ready for use.
Using the Antivirus Live USB Drive to scan and remove malware
1) Plug in the USB drive to the USB port and boot into it.
2) For the majority of users, the default video driver should work.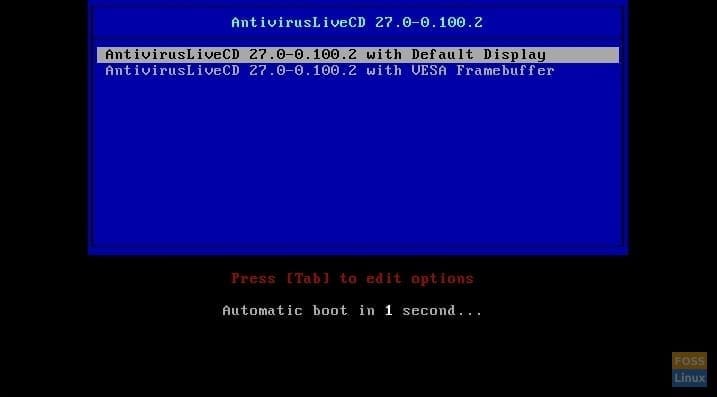 3) Select your preferred language and proceed.
4) You will see a prompt that there is no root password and asks you if you want to set one. Enter 'y' and type in a root password.
5) You should go through setting a time zone.
6) Type "antivir" and press enter.
7) You should see three choices: (1) Scan your computer against virus (2) Update Virus signature databases (3) Update your ClamAV software.

I recommend to first enter (3) and (2) to make sure ClamAV engine and virus signatures are updated which is crucial for security as new virus updates are added on daily basis.
8) Finally, enter (1) to scan your computer for malware. You will be presented with 3 more options on what to be done just in case malware is found. I recommend (3) which is moving the infected file to quarantine.  That way you will know which files are infected.

The process of scanning is slow and could take several hours for a larger size hard disk.