Debian is one of the oldest, most reliable, and stable operating systems out there. It offers you a complete operating system that allows you to do anything from word processing to web browsing to gaming. Debian-based systems are also generally easier to use and less error-prone. So if you're choosing a Debian-based Linux distro, what is it that makes it the best?
This article looks at several of the best Debian-based distributions around.
Best Debian-based Linux distros
We have handpicked and tested some great options for new users trying Linux for the first time and seasoned power users.
The first on our list of best distros are Ubuntu, as it offers so much out of the box and is very easy to learn for new users. Ubuntu has become so appealing and versatile that it was difficult to suggest any other distro for mainstream users. It has grown so much that it comes in many flavors like Kubuntu, Ubuntu Kylin, Ubuntu Studio, Lubuntu, etcetera. Each offers its own set of features and a complete desktop environment.
1. Ubuntu
Whether you are a college student with no computer-related major or a retired veteran, or maybe a housewife, chances are you have heard the name Ubuntu at some point in your life. Ubuntu is not like any other Linux OS; it is the Linux OS that has proven to be one of the most exciting desktop experiences for casual and power users alike. It is an open-source and free Linux distribution that has something for everyone.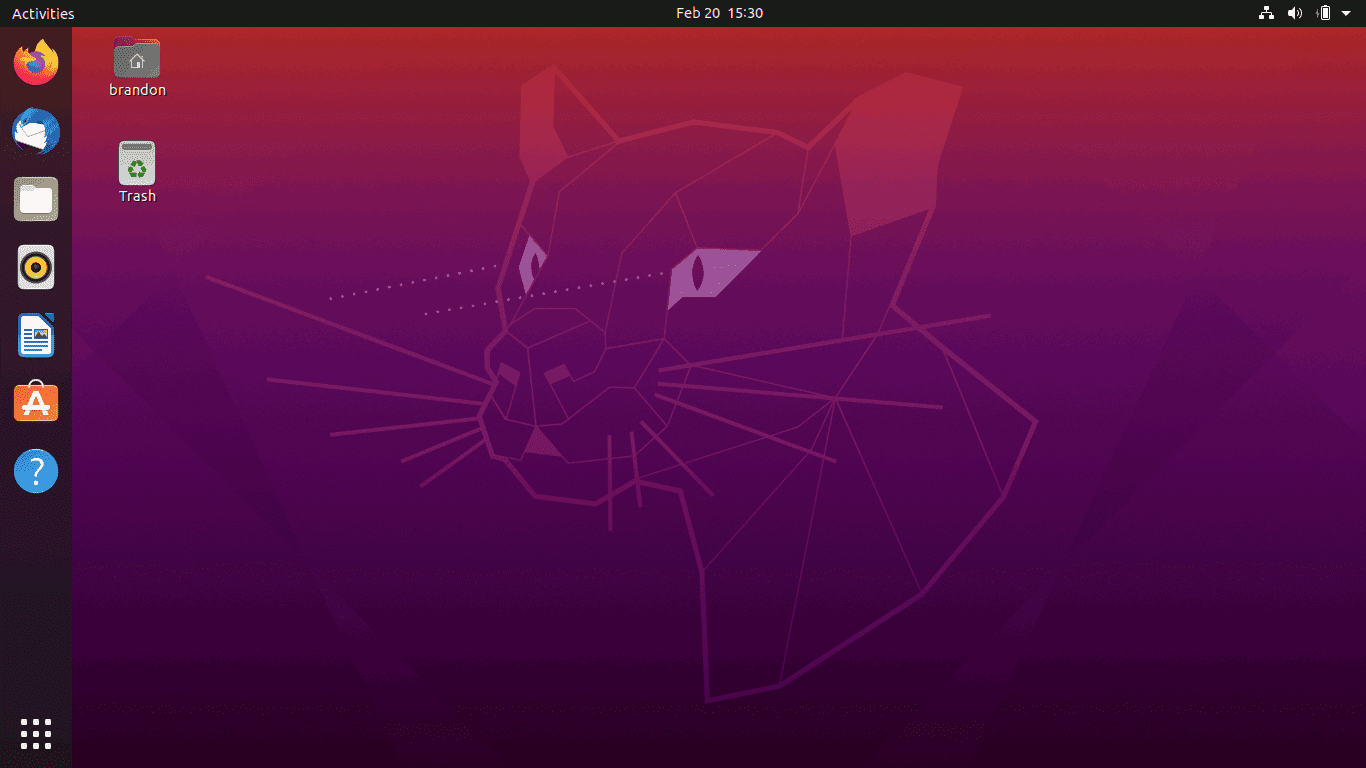 Targeted initially at desktop users, Ubuntu has come a long way since its inception in 2004 and now supports a vast library of tools and services. Let us have a look at some of the most exciting features that make Ubuntu truly deserves the popularity it has gained over the years. You can also check out the official page here if you want to download the latest stable version of Ubuntu.
i. Intuitive UI & desktop experience
Ubuntu comes with a GNOME desktop environment by default which is a very resource-friendly and intuitive DE. You can get used to it very quickly, and this desktop has all the essential tools required by a casual user. You will be able to get around quite quickly, and this ease of use comes in quite handy when porting over from any other conventional desktop environment.
Moreover, you can choose to experience any other Linux DE by installing it on top of your default GNOME DE, which opens the door to so many possibilities.
ii. Customization
Ubuntu provides an unprecedented level of customization and is one of the main reasons it is such a popular Linux distro today. This flexibility in changing any aspect of the desktop is very appealing to those who like to let their creativity go loose, and the results are often quite spectacular. You can even design the desktop in your way if you are into that and create a truly customized experience.
Be careful, though, especially if you are tinkering with some advanced tools. If you are new to Linux, make sure you know whatever you are changing is reversible, or you might end up causing a few unexpected errors while doing the changes you want. However, where there is a will, there is a way; if you are willing to do some research, you can find the solution to almost any problem from the massive Ubuntu community-led support channels.
iii. Software support
Whether you are looking to have your work-related tasks appropriately done on the system or want an everyday desktop experience, Ubuntu supports a range of utilities for all kinds of work and entertainment. There is something for everyone here. Ubuntu comes pre-packaged with a suite of work-related programs, LibreOffice, which allows users to work on professional documents, spreadsheets, PowerPoint slides, etc., just like MS Office, and it is free to use.
There are great tools for entertainment as well. You can watch movies with one of the best open-source video players, VLC, and edit them with the help of several different video editing software supported by Ubuntu. You can also view, edit or share your library of photos by using the built-in program, Shotwell. You can also choose to install from many free apps available on the Ubuntu app store, the Snap Store.
On top of the great default options, you can also install just about any software you think of due to the massive community-backed support. If there is any particular program you want to install made for Windows or Mac OS, chances are someone has already ported it over to Ubuntu or at least a similar version of it. The Ubuntu support community is fantastic and unlike something we have experienced before.
iv. Stable and secure experience with a focus on privacy
One of the main reasons Linux stands out from other commercial platforms is its prime focus on data privacy and security. While some companies may sell your data to advertisers, Linux is built on open-source code, allowing you to see whether your data is safe from prying eyes or if the OS is collecting your data. You can stop yourself from doing so.
This is the reason why there has been so much new interest in Ubuntu from people all over the world in the last decade. You can create your firewall, set up your proxy servers, and do so much more with a bit of understanding and will to learn. It allows you to protect your data and privacy by default and has developed into a stable experience now more than ever before.
v. Ubuntu flavors
Ubuntu comes in many different flavors, which are different versions of Ubuntu that allow users to experience the distro in so many different ways. Every flavor comes with a complete set of default apps, settings, themes, and utilities. Some noteworthy examples are listed below, but you can check out the official page for Ubuntu flavors if you want to have a detailed look.
Kubuntu
This flavor is designed for KDE Plasma lovers as it boasts all desktop functionality of Plasma while also giving a complete Ubuntu experience.
Lubuntu
Lubuntu comes with LXQt as the desktop environment, and it is ideal for those looking for a fast, light, and simple distro.
Ubuntu Budgie
Budgie is a desktop environment designed with intuitive UI and elegant looks and comes as a default with this flavor.
Xubuntu
This flavor is ideal for those who want an easy-to-learn OS and have a fairly old computer to install it on as Xubuntu comes with Xfce DE, which is a stable, light desktop and is known to work great on old hardware.
Ubuntu MATE
If you are a fan of a classic desktop environment like GNOME, this one is for you as the MATE DE was built as the successor to GNOME 2. It is a simple, fast, stable, and light desktop with many different themes and allows complete customization.
Since Ubuntu is Debian-based, it allows installing different desktop environments in your distro, and you can switch between them quite easily. So even if you have already installed a particular flavor on your system, you can still try out other desktop options without having to remove them.
vi. Gaming
If you are anything like me, you enjoy playing games on your PC more often than not. This is because gaming has gotten so good with the recent updates to graphics, and no matter which genre you are interested in, there are some fantastic games to be enjoyed these days.
Ubuntu is the most common distro among numerous other options based on Linux, so naturally, there are vast audiences of gamers who are actively looking to play games on their system. That is precisely what many game developers are actively focused on these days, and the number of supported titles is now in thousands of games.
While natively supported games for Linux are still quite limited in number, you can increase the number of supported gaming titles by installing Proton. This fantastic compatibility tool allows Windows-compatible games to run on Linux without losing considerable performance.
There is also the option of installing Steam, and you can enjoy thousands of must-play games via Steam. Although Steam does not support all of the titles for Linux, that number is growing quickly.
And finally, you can also play all the Windows-supported gaming titles with the help of emulators and virtual machines. Still, this option affects performance, especially if you do not have sufficient hardware resources.
2. MX Linux
Ubuntu is our first pick on this list, but this doesn't mean that it is the only distro that deserves applause for being a great option that ticks all the right boxes. MX Linux is a great Debian-based distro, and it has been one of the fastest-growing Linux distros in the last couple of years. It was developed from antiX and MEPIS distros, which worked well with old hardware. MX Linux is a beautiful and light distro, and it hits many boxes of a good operating system.
MX Linux was designed for those who like a minimalistic yet stylish-looking desktop and want something which can run very well on almost any hardware. It comes with a resource-friendly Xfce desktop, but you can also try KDE Plasma and Fluxbox options based on your desktop preference. You can check out and download any available versions from the official page by clicking here. Now let us take a look at some of the critical features of MX Linux. 
i. Resource friendly operating system
MX Linux was developed from two very resource-friendly Linux distros in 2014, MEPIS and antiX. The current stable version of the distro is based on the latest stable Debian release, which is Bullseye. It comes with an Xfce desktop environment, which is also one of the reasons it is known for the resource-friendly experience.
The minimum requirement of MX Linux is only 1 GB of RAM, 8.5 GB disk space, and an i686 Intel or AMD processor. It utilizes minimal resources at idle and can be further adjusted according to the needs.
That is not to say that it lacks the basic features of a good OS. On the contrary, it boasts many great features and comes with KDE Plasma and Fluxbox DEs. Not only that, but it is also a swift OS and works at lightning speed whatever you through at it.
ii. Software support and desktop features
The latest stable version of MX Linux is MX-21, and it comes in a bunch of different options based on your hardware and your choice of desktop. Firstly there is the choice of the DE; it comes with Xfce, KDE, and Fluxbox. And then, there are different versions of MX Linux for other architectures. 
Many utility apps are included in the MX Linux, and a substantial amount of the software and packages library works excellent. It also comes with its default installer, which is unique as it has a dedicated Help section on the left. This Help section provides all the details of the selected page of the installation process and is very well designed, especially for new Linux users.
The default Xfce version of MX Linux boots up with a desktop design that many conventional users are familiar with. It comes with all the bells and whistles of regular desktop UI, and you can do so much in terms of altering it to your liking.
MX Linux comes with an apt package manager by default, but you can also get Synaptic package manager. However, it requires more knowledge about the utility and gives you more control. The default package installer is also an excellent tool and is very easy to use, especially for new users.
One of the many great tools included in MX Linux is Timeshift, which allows users to easily save an image of the operating system with all of the current settings and save it from being restored into that state whenever needed. It is pretty user-friendly and a great utility to keep backups.
iii. Safety and security features
One of the great features of MX Linux is that it comes with an Ad-blocker by default. It is a great tool to avoid annoying ads and control any aspect of your data collected by any unwanted tool or website. You can also set up a firewall, a VPN, a proxy server, and many other security-related utilities within the distro.
iv. Intuitive UI and Customization
Since it is based on Debian 11, MX Linux boosts many options to customize the UI to your preferences. While it may not be as versatile as Ubuntu and some other options, it gets the job done, and you can design most of the aspects of the desktop however you like.
The UI is great for new users and does not feel daunting like the base Xfce installation. Plus, there is a dedicated Help section with every page included by default, and it gives you all the relevant information for the utility which is being processed.
3. Zorin OS
Zorin OS is designed for those who are used to a conventional desktop interface like Windows or Mac OS. If you start in Linux for the first time and prefer how these other DEs look, this one is for you.
It has many user-friendly features commonly seen across other platforms like smartphone integration similar to that of Windows and Mac OS, built-in support for NVIDIA and ATI drivers for gaming, and compatibility with apps made for Windows. There is even a lite version of Zorin OS for running it on older hardware. You can download both Zorin OS versions from the official page by clicking here. The following are some of the critical features of Zorin OS.
i. Conventional desktop design and intuitive UI
This is one of the most appealing features of Zorin Os, the desktop design that almost everyone is used to. It makes it a fascinating option for those who have never used Linux before and helps them get accustomed to UI quickly after installing it on their system.
Whether you prefer Mac OS or Windows desktop, Zorin OS got you covered. It comes with different layers of desktops which differ based on the desktop design. So you can choose to install your preferred desktop option, and you will feel right at home after making the switch.
ii. Great support for Nvidia drivers
Compatibility for Nvidia drivers used to be one of the worst things in Linux and why Linus Torvalds (creator of Linux kernel) was so pissed at Nvidia due to their lack of support for the Linux platform. This was in 2012, and luckily things have changed for the better ever since. But this has been one of the many great features of Zorin OS that the developers focused on making sure Nvidia drivers work great out of the box.
iii. Software support and Android integration
Zorin comes with a massive library of supported software that can easily be downloaded through the built-in software store. It is straightforward to use and has a rating system that allows you to filter out your search results.
There is also support for Android integration, which works amazingly well. You can easily link your Android phone or tablet and exchange access between the device and your computer. In addition, you can use your phone remotely right from the system and control some aspects of the Zorin OS from your phone.
iv. Gaming and Windows app support
Since there is excellent support for Nvidia and AMD drivers, you can enjoy gaming on Zorin OS, unlike any other distro. You can also install Steam and enjoy a vast library of games.
You can even install Windows applications with the help of the PlayOnLinux utility, which makes running ".exe" and ".msi" files a breeze.
v. Resource-friendly and secure experience
Zorin OS is already a great distro in resource-friendly experience, but it does not end there. The team created a dedicated version of Zorin OS for those who want to run it on much older hardware, and this lite version works great on old computers.
Zorin OS is also a very secure distro apart from all the above features. The developers made sure to keep it as safe as possible, and you can further enhance the security by utilizing so many tools built right into the distro by default.
Final thoughts
So there you have it; these were three of the best Debian-based Linux distros that we believe are on the top of the list. By no way is this a definitive list of the best distros out there, and your mileage may vary. But in the end, we hope that this article has given you somewhat helpful information about some of the best distros out there.
Do let us know if you enjoyed distro-hopping as much as we do, or maybe you installed one of these into your system and are satisfied that you did not even try another one.